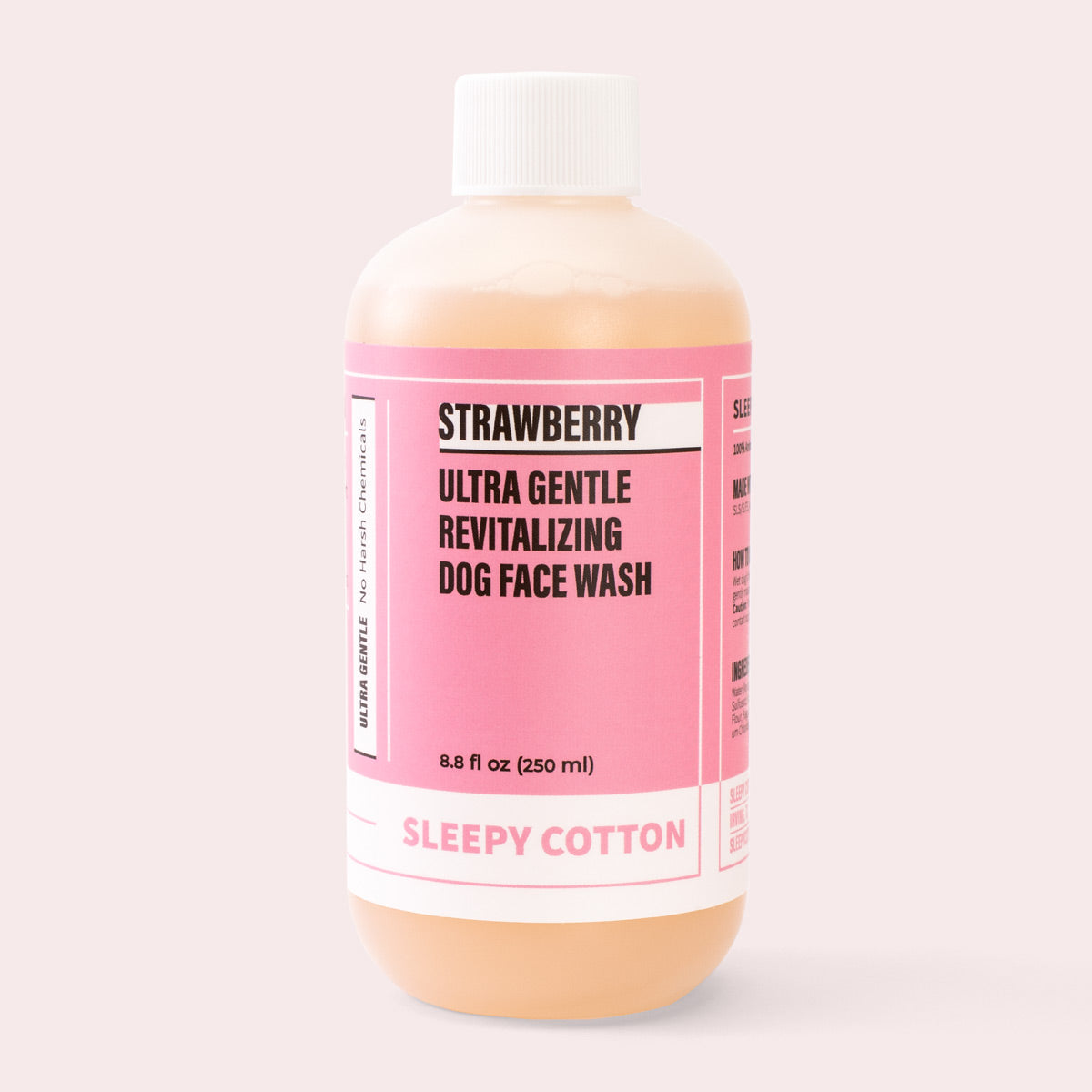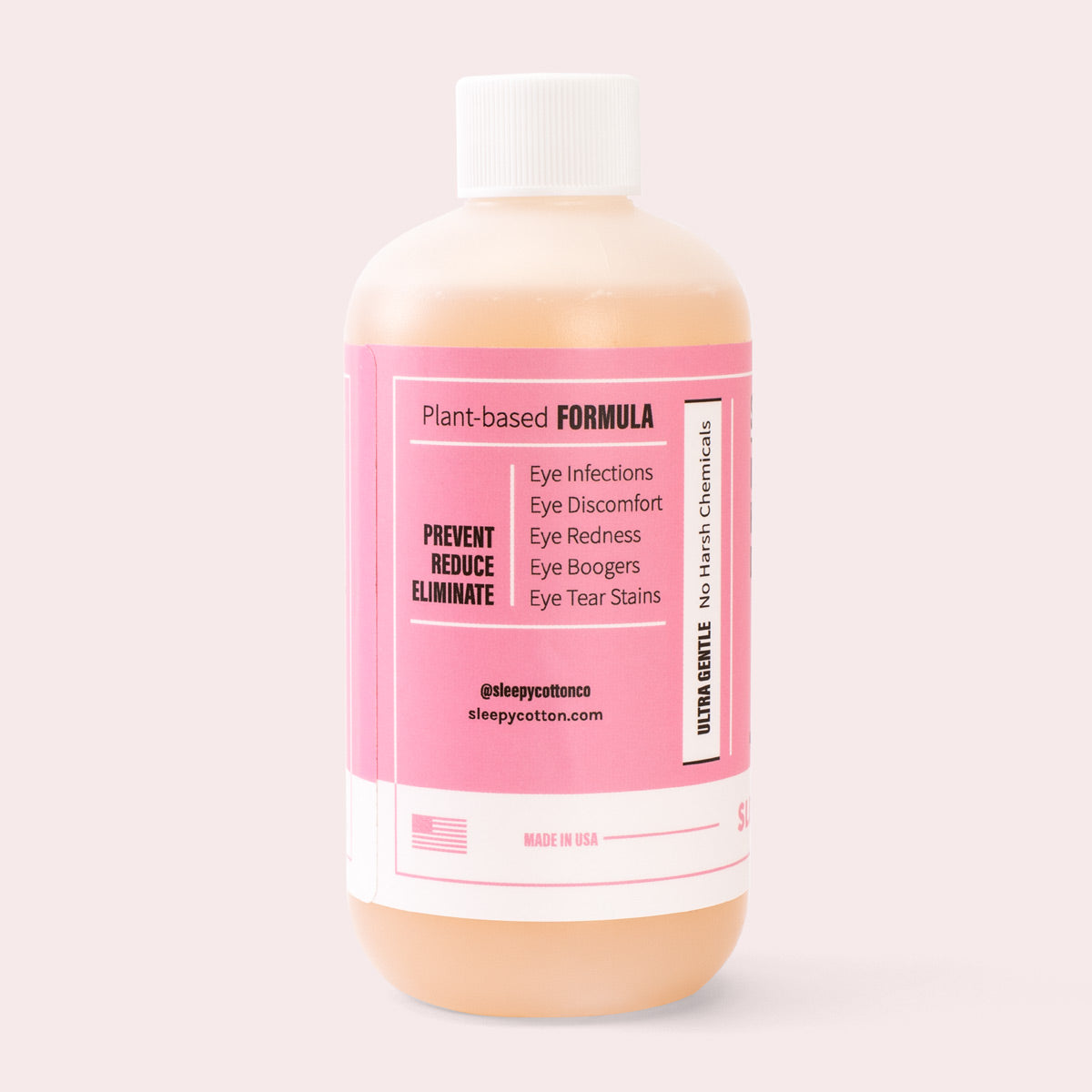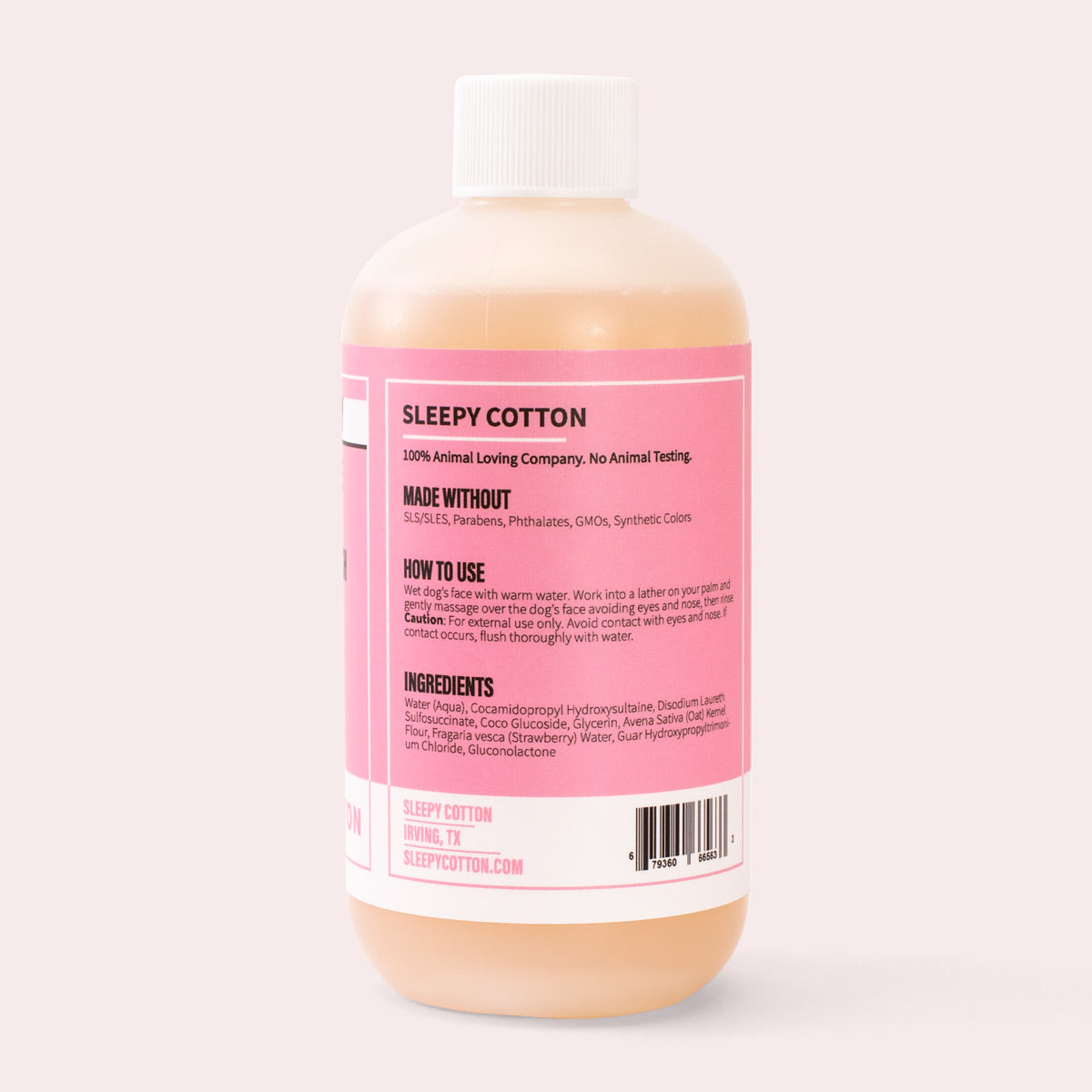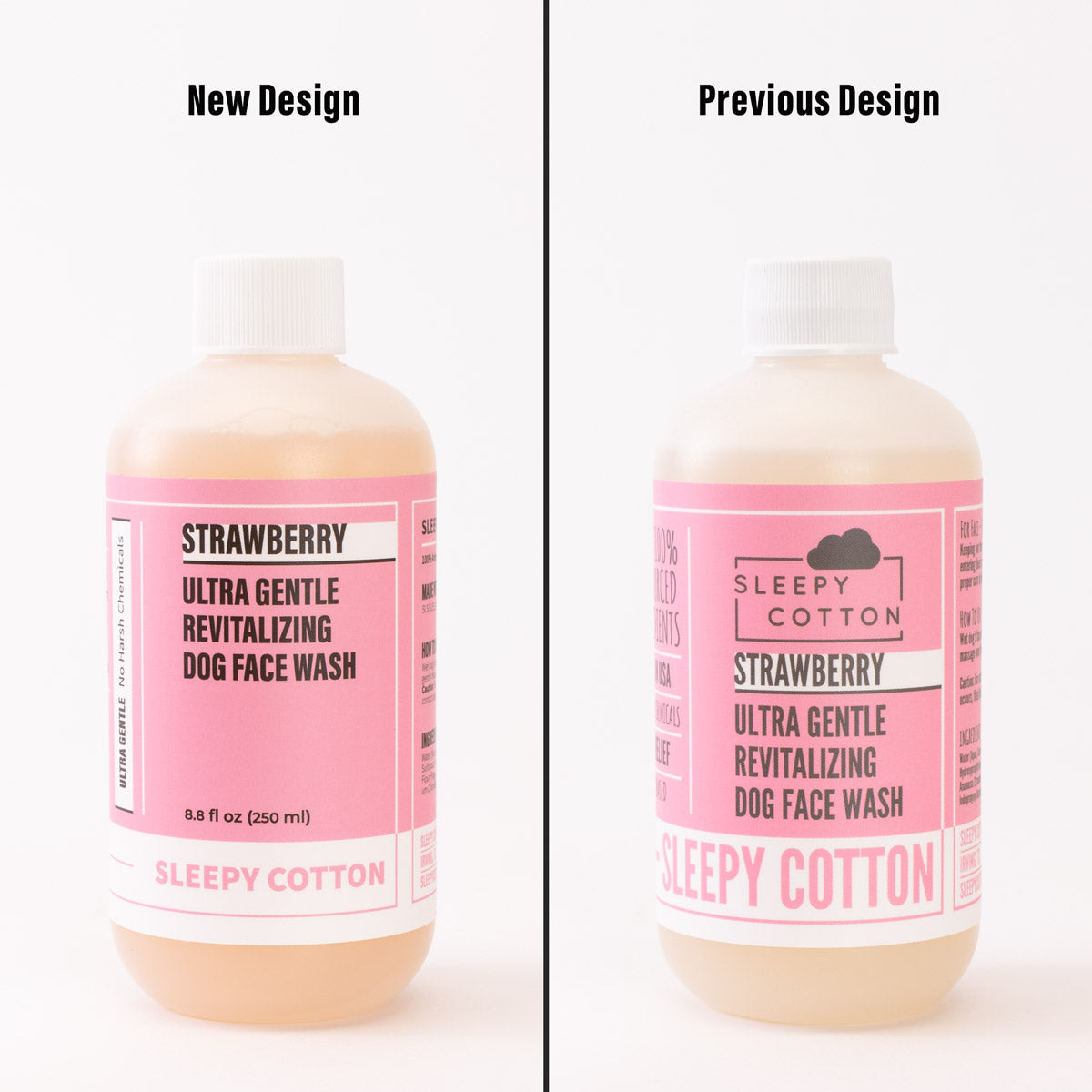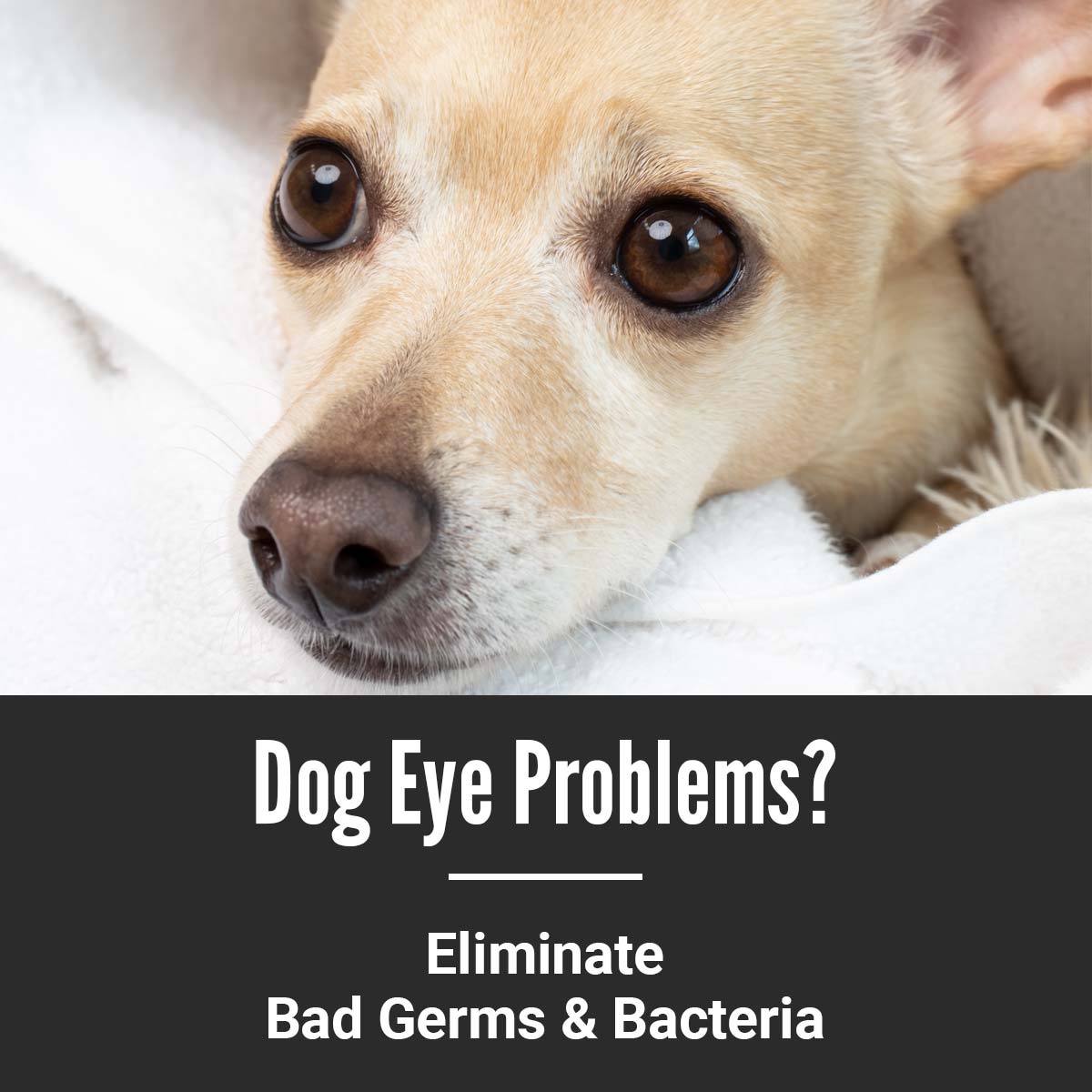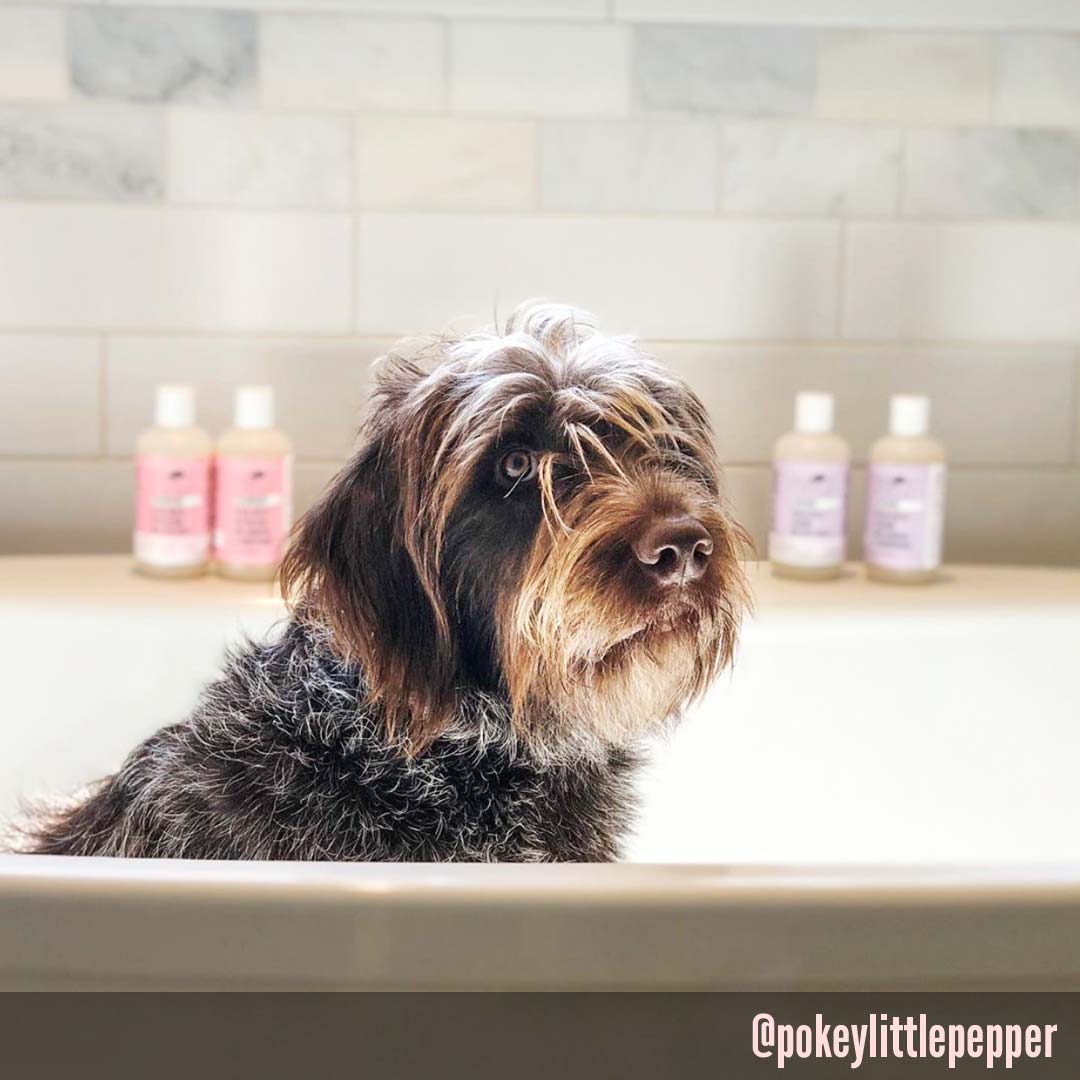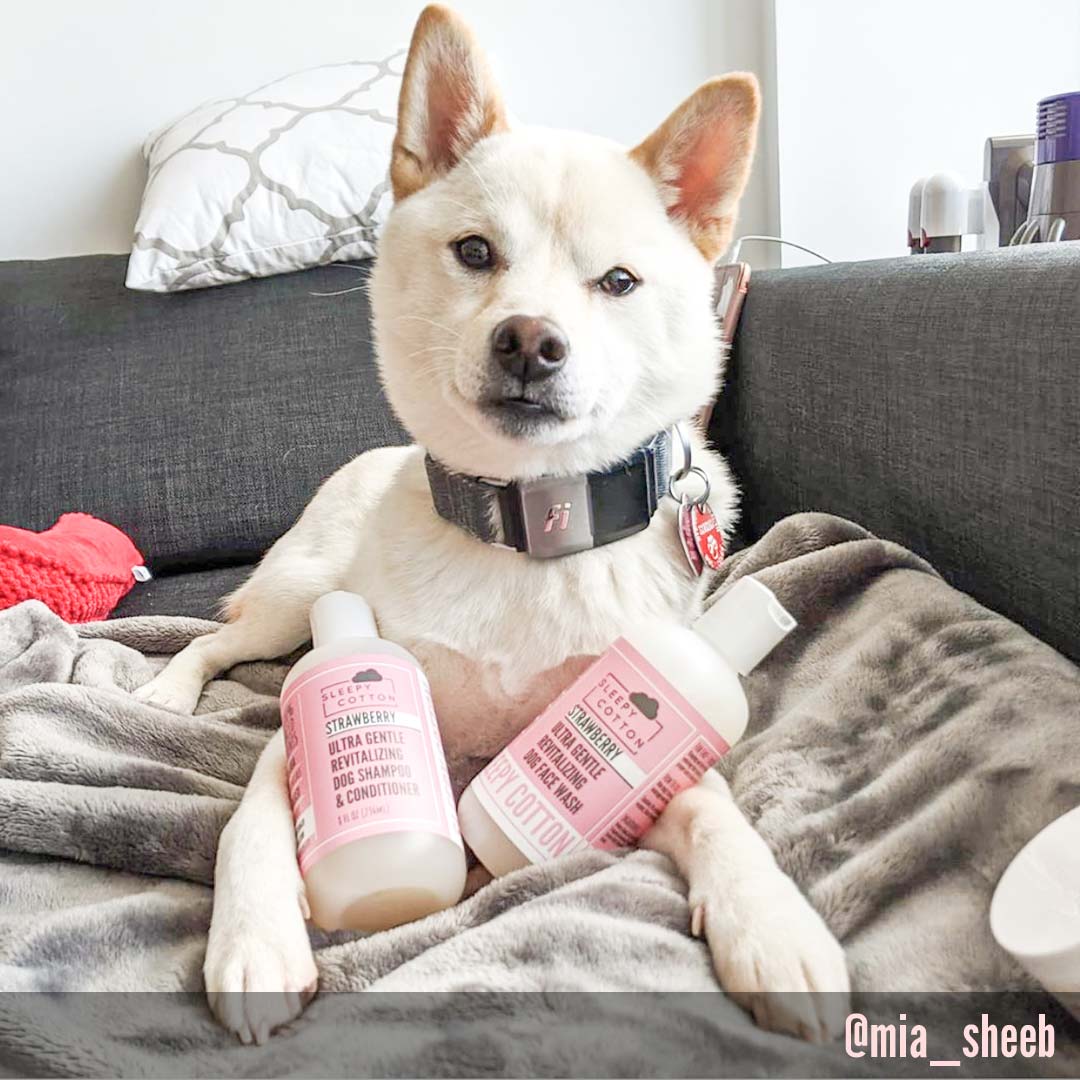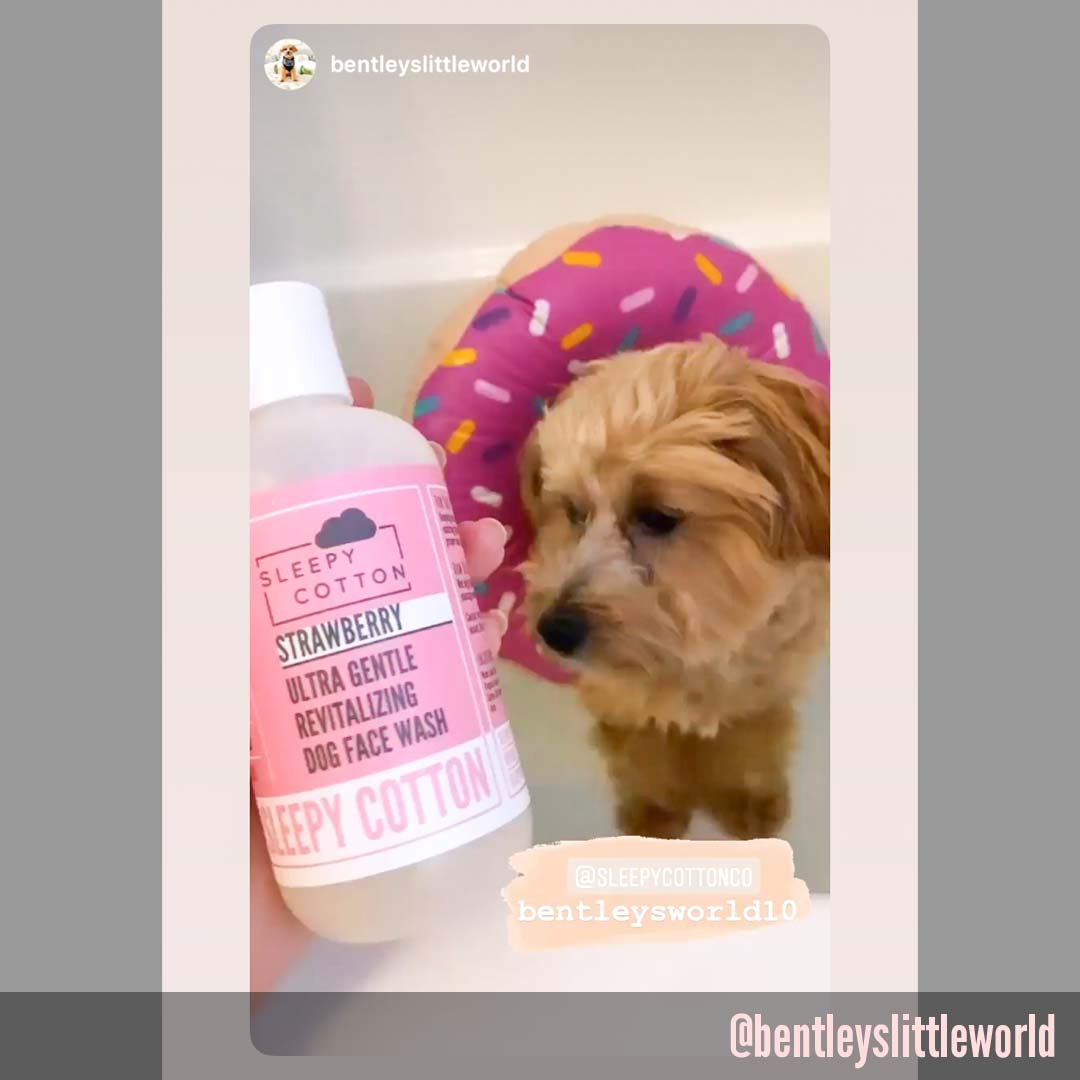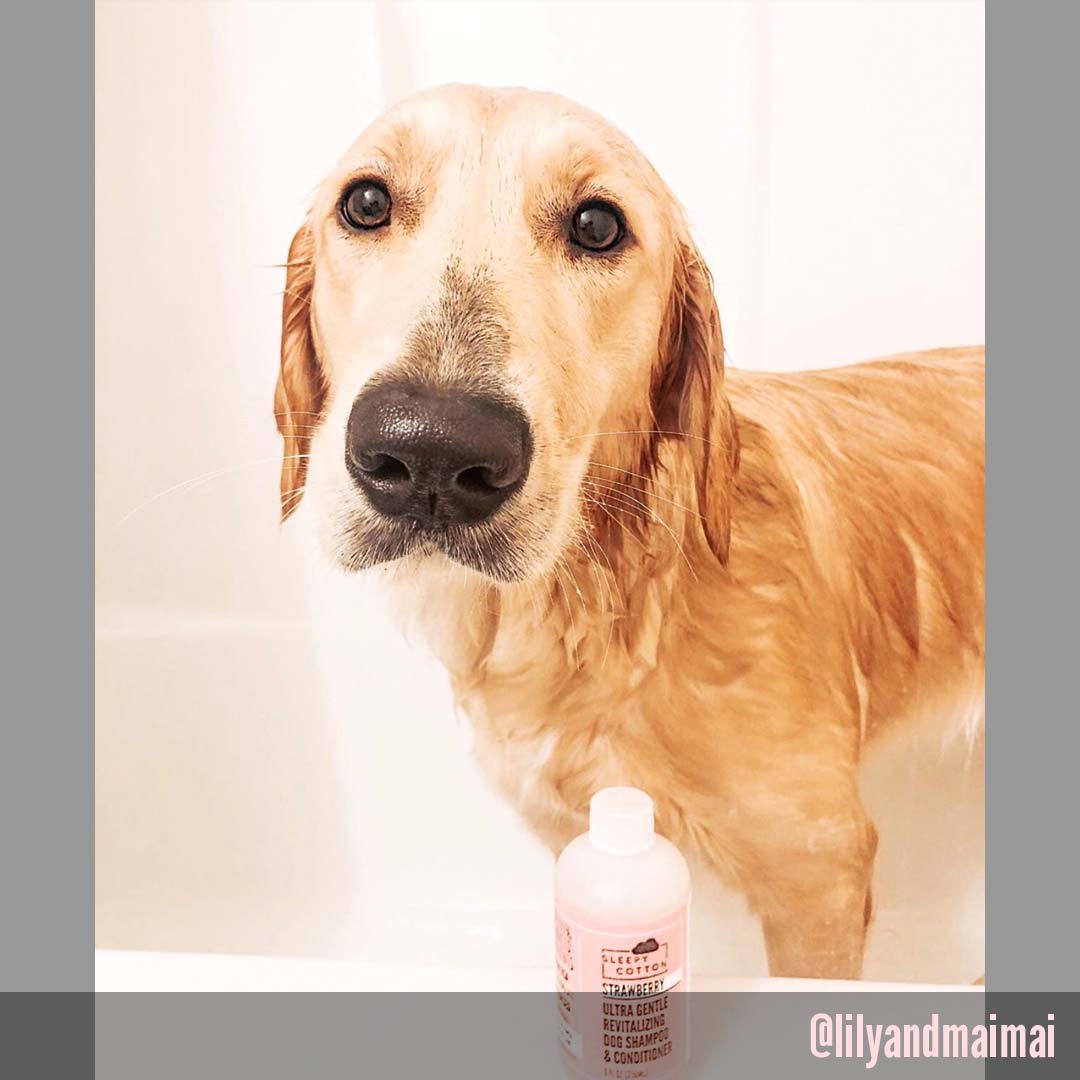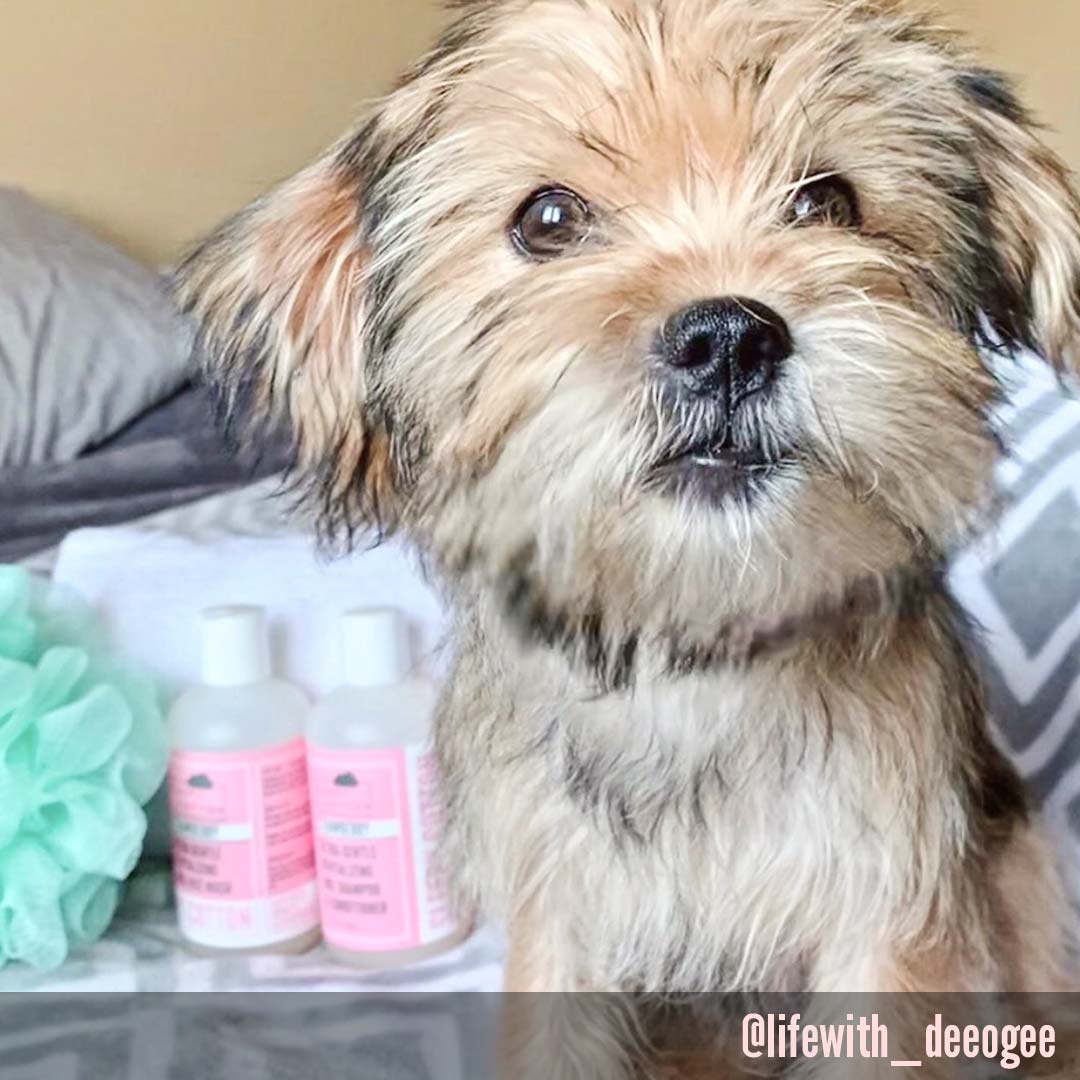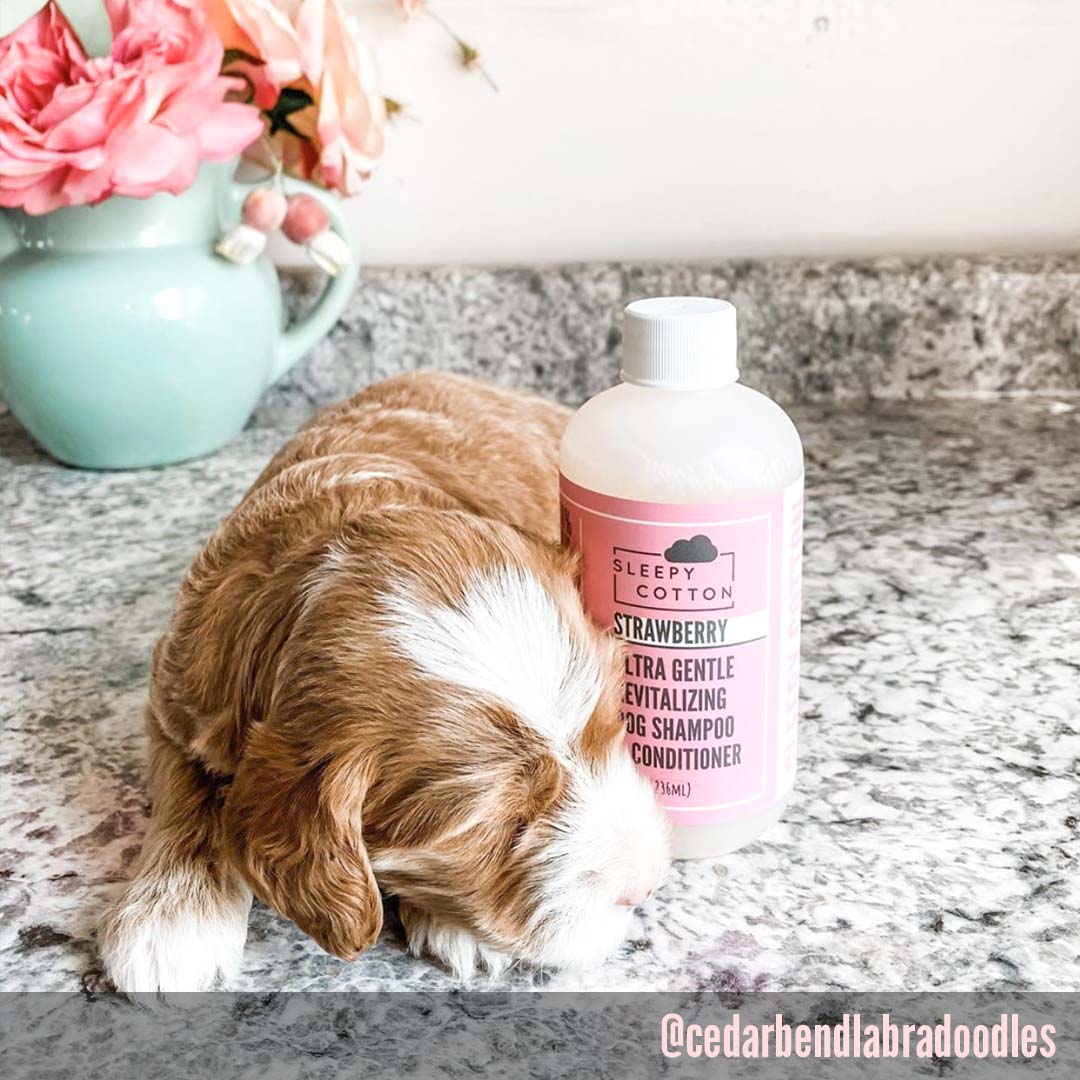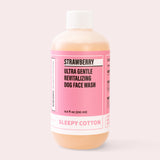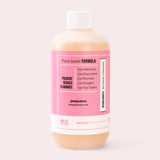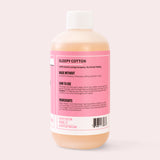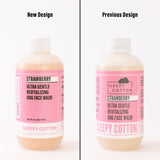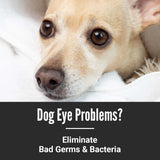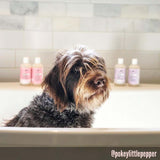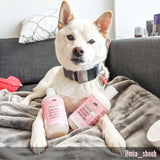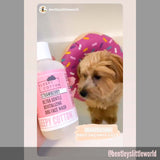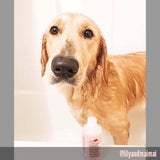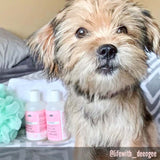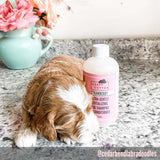 Strawberry - Ultra Gentle Revitalizing Dog Face Wash (Ambassador)
---
---
Why are My Dog's Eyes Red?
Dog Eye infection? Irritated Dog Eyes?
Eliminate the germs and bacteria around the eyes that can cause dog eye redness, dog eye boogers, dog eye discharge, dog stye eye, and dog eye infections with our tear-free Sleepy Cotton Ultra Gentle Dog Face Wash.
Bad germs and bacteria are the culprits behind the majority of dog eye irritations. Eliminating them from your dog's face not only helps them stay healthy and strong, but it helps them avoid the discomfort of irritated eyes. Remember, if your puppy has red eyes, they are probably irritated.
For Face - Special Formula
Targeting Germs and Bacteria
Specifically developed to prevent germs and bacteria from entering your dog's system, our gently formulated Face Wash products help reduce symptoms related to dog eye infections and prevent those infections from ever happening.
Key Benefits
- Eliminate germs & bacteria on the facial area
- Eliminate germs & bacteria around the eyes
- Reduce & Prevent - Dog eye infection
- Reduce & Prevent - Dog eye discomfort
- Reduce & Prevent - Dog eye redness
- Reduce & Prevent - Dog eye boogers
- Reduce & Prevent - Puppy red eyes
- Reduce & Prevent - Dog eye discharge
- Reduce & Prevent - Dog stye eye
- Reduce & Prevent - Dog irritated eye
- Remove & Prevent - Dog tear stain
Sweet Vitamin C Bath - Strawberry Goodness
Does your dog remind you of vibrant, sweet strawberries? Add extra sweetness to your furry friend's care routine with our Strawberry Ultra Gentle Revitalizing Dog Face Wash. Strawberries are an incredible antioxidant and contain a high concentration of vitamin C. They help to protect and rejuvenate dog's skin & fur, reducing hair loss and dandruff. We use 100% strawberry extract water for delicate fur babies, while allowing you to enjoy the natural strawberry scent at its best. Strawberries will bring tons of wholesome qualities and nutrients for a fruitful bath time for your pup.
Not Just Gentle. It is Ultra Gentle
It is important to understand that every dog has sensitive skin. A dog's skin is only 3 to 5 cells thick; whereas a human's is between 10 to 15 cells thick. Sleepy Cotton Ultra Gentle Dog Shampoo is perfectly formulated for dogs' sensitive skin. Our foaming agents are extracted from coconut and sugar. No SLS or SLES. No harsh chemicals are added. All ingredients are 100% natural.
Eliminate Itchy & Irritated Skin Conditions
Understanding the complex relationship between a dog's hypersensitive skin and widely used harsh chemicals is the key to eliminating most common dog skin irritations including itchy skin.
MANY PROBLEMS CAN BE ELIMINATED BY SIMPLY AVOIDING ALL HARSH CHEMICALS and switching to all-natural products made with only naturally derived ingredients.
How to Select the Dog Face Wash that You Can Trust?
Pick up your fur baby's face wash and answer the following three questions:
- Country of Origin - Does it clearly state where it is made?
- Ingredients List - Are ALL ingredients clearly listed?
- Source of Ingredients - Are ingredients clearly listed as ALL US sourced ingredients?
Are any of your answers NO? If so, you might want to think again.
True Made in USA
While many companies do not clearly provide critical information about the origin of their products, we proudly state everything.
- 100% of our products are made in our own US facilities
- We proudly list ALL our ingredients
- ALL our ingredients are US sourced
100% US Sourced Ingredients
Are you able to tell the source of the ingredients used in your current dog face wash? Sleepy Cotton Ultra Gentle Dog Face Wash is made with 100% US sourced naturally derived plant based ingredients.
How To Use
Facial Area: Wet dog's face with warm water. Work into a lather on your palm and gently massage over the dog's face avoiding eyes and nose, then rinse.
Eliminate & Prevent Dog Eye Problems: Gently wet the area around the eyes and booger heavy areas with warm water. Let water soak in. Work into a lather on your fingers and apply it. Using your fingertips, gently twist and rub the fur around the area, breaking dirt and grime off. Then rinse gently.
Warning: We do not recommend using general dog shampoo products from grocery stores and similar retailers for dog facial cleaning.
Additional Benefits
- Made in the USA
- Clear ingredient list
- All US sourced ingredients
- GMO free ingredients
- Naturally derived ingredients
- No harsh chemicals
- Plant based - 100% vegan face wash
- Natural preservatives
- Biodegradable
- Ultra gentle
- Skin soothing
- Tear free
- pH balanced for dogs
- Protects & nourishes skin & fur
- Helps skin heal & clears skin conditions
Made Without
- Parabens
- Phthalates
- Formaldehyde
- Mineral oil
- Dyes
- Synthetic Fragrances
- SLS/SLES
Quality Above Most Human Grade Products
Sleepy Cotton Ultra Gentle Dog Face Wash is made of carefully selected, 100% US sourced naturally derived ingredients. The quality is better than most human-grade products on the market.
FAQs
1. What causes irritated dog eyes?
Answer: Bad germs and bacteria. The buildup of harmful germs and bacteria can cause many irritations including various dog eye infections, dog eye redness, dog eye boogers, dog eye discharge, dog stye eye, and even dog tear stains.
2. How can I improve existing dog eye related symptoms?
Answer: A dog's body is incredibly resilient. In many cases, regularly getting rid of bad germs and bacterial buildup with gentle face wash can dramatically improve existing symptoms. Make sure to let them dry well.
3. Can I use any shampoo products on the market?
Answer: What many dog parents don't understand is how sensitive dog's skin is. Dog's skin is only 3 to 5 cells thick; whereas a humans is between 10 to 15 cells thick. Unfortunately, most dog bath products on the market are made with harsh chemicals developed for thicker human skin, which will cause skin irritations down the road, possibly worsening the existing condition.
Full Ingredient List
Water (Aqua), Cocamidopropyl Hydroxysultaine, Coco Glucoside, Propanediol, Fragaria vesca (Strawberry) Water, Glyceryl Oleate, Avena Sativa (Oat) Kernel Flour, Guar Hydroxypropyltrimonium Chloride, Glycerin, Potassium Sorbate
Approximately 8 fl oz
Cautions
While our Face Wash products are ultra gentle, we recommend avoiding direct contact with eyes and nose. If direct contact occurs, gently flush thoroughly with warm water.
For external use only. If any adverse reaction develops, stop use and contact your vet.
Processing Time
1 to 5 business days (Mon - Fri). We manually inspect and quality check all products twice before shipping out.
Shipping
- Domestic (U.S.): 1-3 business days (USPS)
- International: 7-14 business days
Products delivered to destinations outside the USA may be subject to taxes, fees, levies or other charges as a result of local legislation or customs formalities and we advise that you check the import charges applicable in any non-USA country before ordering products to be delivered there.
Return
Please feel free to return undamaged products in their original condition within 30 days.
---
---
Strawberry - Ultra Gentle Revitalizing Dog Face Wash (Ambassador)
As seen in
Thank god I found Sleepy Cotton!
Sleepy Cotton is a puppy parent's best friend.