Coconut Oil's Unique Molecules That Benefit Your Dog
Chase Correll | June 20 2018
Coconut oil offers a multitude of health benefits for your dog: from such simple things as skin and digestive support, to more critical areas like immune system and musculoskeletal support. Perhaps you've started to wonder, "just how is it that coconut oil can be so beneficial for my little fur baby?" Well now's the time that I ask you to think small, because we're going on a deep dive into the molecular realm. Don't worry, we won't get too scientific-y. Soon enough, you'll be an expert about the benefits coconut oil offers to the well being of our furry friends.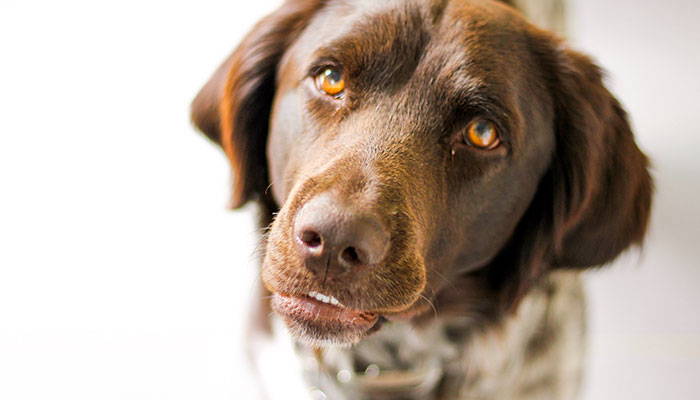 64% of coconut oil is made up of Medium Chain Fatty Acids (MCFAs). What does that mean? Well, it means that coconut oil is filled with all sorts of little molecules that are of great benefit to your pup. The majority of coconut oil's health benefits come from these MCFAs, so let's take a closer look at the molecules that MCFAs are comprised of:
Lauric acid
Lauric acid makes up 48% of the MCFAs in coconut oil, and is that special ingredient in your hand soap that keeps any nasty germs away. As you might guess, lauric acid offers antibacterial, antifungal, and antiviral properties; all of which will help to ensure your pup has a bolstered immune system and will give you peace of mind about your dog's health.
Capric and caprylic Acid
Both capric and caprylic acid have similar molecular properties and provide antifungal effects for your dog's fur and skin. The capric and caprylic acids in coconut oil would help keep your pup's fur and skin safe from any dangerous fungi.
Myristic Acid
Research supports myristic acid in its ability to raise levels of good cholesterol, which could help keep your pup's heart in good shape.
All of these acids contribute a great deal in benefitting your dog's well being: particularly its immune system and skin. But what about your dog's metabolism?
Keeping an eye on your dog's nutrition can be tough, and sometimes your pup can get a little heavy. Now, that extra bit of fat may add an extra bit of cute factor for your pup, but at the end of the day you want your fur baby to stay healthy. With regards to your dog's nutritional health, perhaps the most important benefit of MCFAs is their ability to boost your furry friend's metabolism. Because MCFAs are easily metabolized by your dog's body, they are able to be used as an immediate energy source for your pup. That immediate source of energy allows for enhanced athletic performance and also aids weight loss for your pup because of how easy the MCFAs are metabolized.
Not only that, but the MCFAs in coconut oil also help balance your dog's thyroid gland. In case you didn't know, the thyroid gland plays a crucial role in your dog's health: especially its nutritional health. If you find your little friend to be overweight or lacking energy, the MCFAs in coconut oil aid your dog's thyroid gland. This helps overweight dogs lose weight and sedentary dogs gain energy.
Dr. Bruce Fife, a certified nutritionist, naturopathic doctor, and president of the Coconut Research Center explains that coconut oil is key to your dog's health because it elevates your pup's metabolism and energy levels, protects your pup from illness, and can also be used on wounds to help speed up your dog's recovery. Not only that, but you can keep your pup's skin and fur healthy by applying coconut oil, like Sleepy Cotton's Shiny Dog Melting Balm, to its coat.