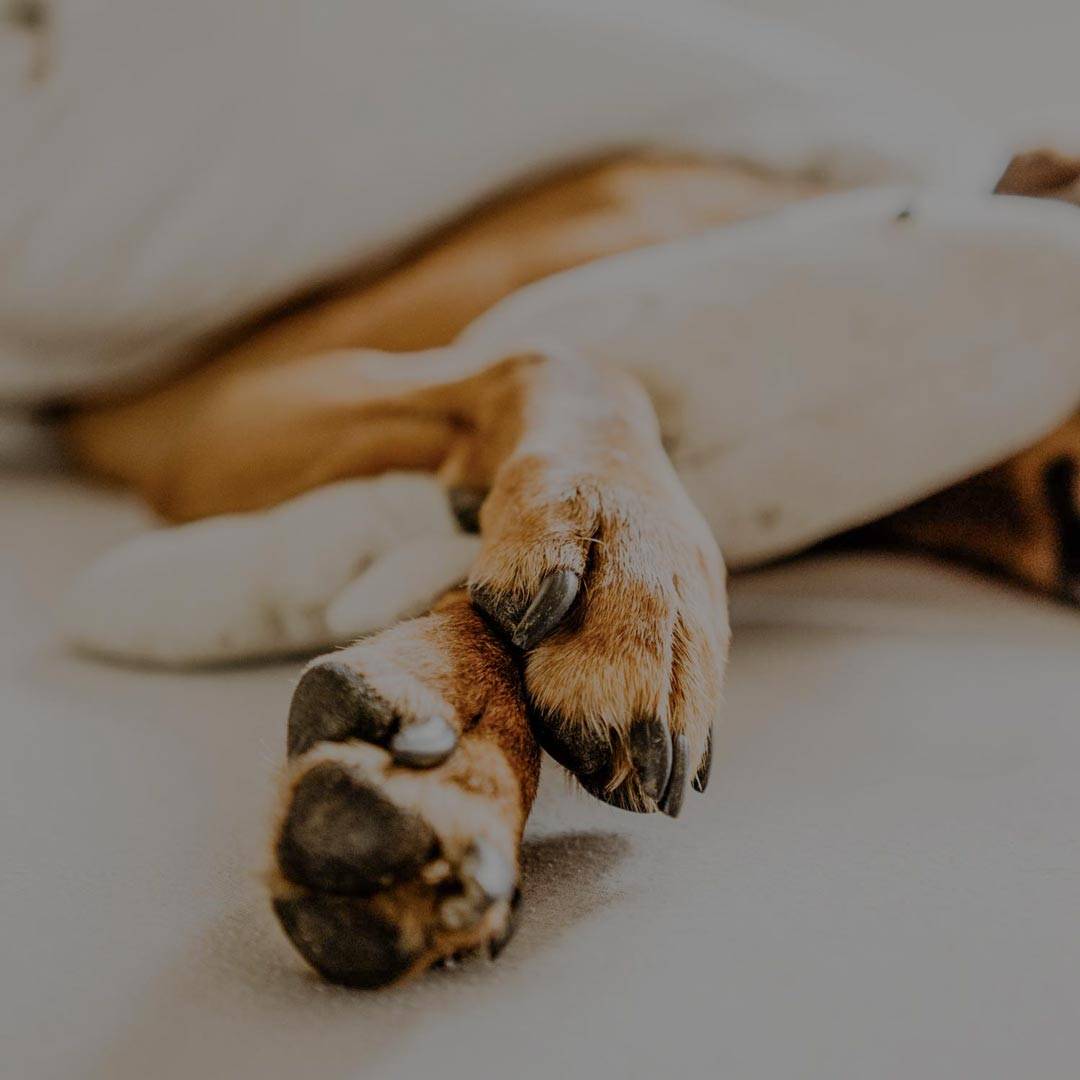 Why is My Dog
Licking His Paws?

Dirt, Germs, & Bacteria

Dry Paws

Fungal & Bacterial Infections

Allergies
---
#1 - Dirt, Germs, & Bacteria

90% of the time, what irritates dog paws is the common buildup of dirt, unhealthy bacteria and germs.
The hot pavement from high-temperature summer months can remove all of the moisture from paw pads. During the winter season, paw pads can become dry, cracked, and sore because of the intense temperatures and if they step on ice melter salts or chemicals
#3 - Fungal & Bacterial Infections

Excessive licking may lead to injury, which can make the paw more susceptible to fungal and bacterial infections
Paws are introduced to possible chemicals in the yard, pollen, mold, and grass that hide all kinds of bacteria. Their allergies could additionally be caused in their home from the food they eat or even rough carpet they walk on.
---
With Sleepy Cotton AFTERWALK Sanitizing Paw Gel Cleanser, you can SUPER CLEAN and care for paws the right way, properly eliminating possible paw irritation causes.
It includes aloe, flower extracts, naturally derived cleaning agents, and a dog safe medical-grade active ingredient - proven to kill 99.9% of germs and bacteria.
---
AFTERWALK Sanitizing Paw Gel Cleanser

Dog paws provide protection to plenty of life's obstacles while being a loveable part of your fur baby! Similar to how we wash our hands, keeping their paws clean can prevent the accumulation of unwanted germs and bacteria. Safely remove germs and bacteria with our Paw Cleanser featuring an anti-bacterial clinical active ingredient.
Proper Cleansing - Dirt, Germs, and Bacteria

Properly clean and care for those adorable paws. Common feet washers and paw wipes are not able to get to where dirt, germs, and bacteria accumulates causing paw irritations - especially between pads. With Sleepy Cotton Paw Gel Cleanser, you can SUPER CLEAN and care for paws the right way, properly eliminating possible paw irritation causes.
Proper Cleansing - Viruses

As we all know, surfactants break chemical bonds holding many types of viruses together. The base of the Gel Cleanser (surfactant) is made from coconut and it is even mild enough to safely ingest.
The Softest Moisturized Paws

Our Paw Gel Cleanser is formulated to kill germs and bacteria but also designed to moisturize paws to make your fur baby's every single walk their happiest journey.
---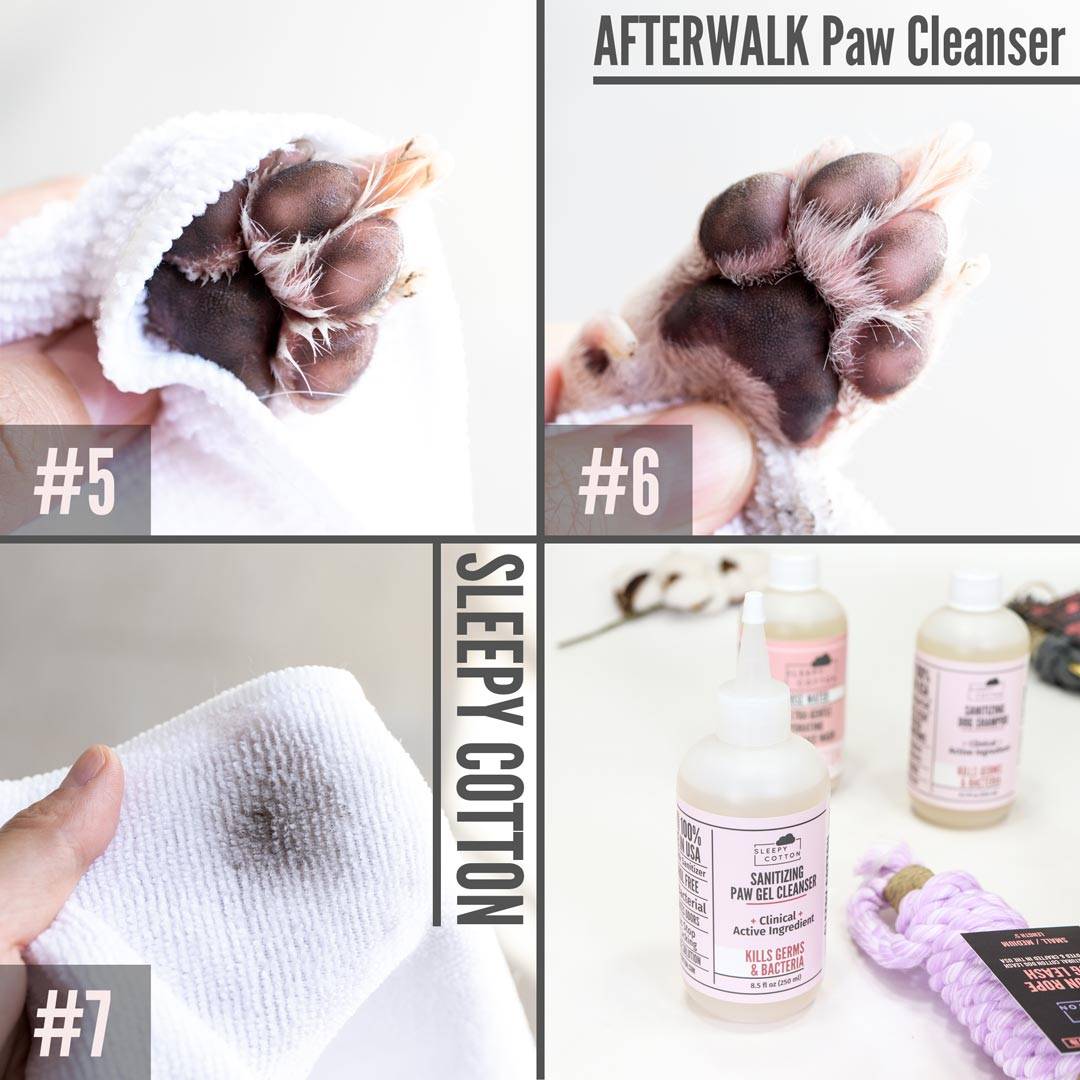 ---
★★★★★
Vicki S. on Sep 07, 2020
THIS STUFF IS THE BEST!

We always wash paws when coming in from outside and this stuff is a miracle. Our dog would bite and lick his paws but after using this, he doesn't anymore! It smells awesome and sanitizes his paws after walks. We've stocked up on it :)
★★★★★
BRENDA H. on Aug 15, 2020
We Absolutely Love This!!!

This is my favorite. So for the longest time I've been trying to look for something that can clean my babies paws . Water gets to messy and dog wipes are not meant for paws. It's smells great, it cleans what I need it to clean! Super happy about it!
---
How to Use
@grayghostbruno

SLEEPY COTTON
TRUE MADE IN USA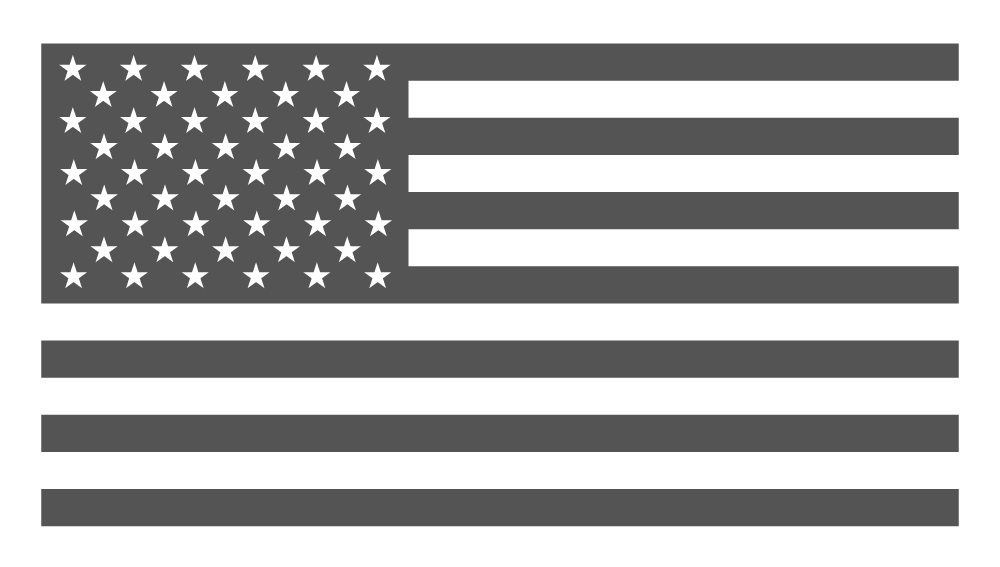 NATURALLY DERIVED INGREDIENTS
MADE IN USA INGREDIENTS

---
Naturally Powerful Dog Balm

---
Itchy Skin Solution
Dog Shampoo & Conditioner

Understanding the complex relationship with dog's hypersensitive skin and widely used harsh chemicals is the key to eliminate most common skin irritations including itchy skin. MANY CAN SIMPLY BE ELIMINATED BY AVOIDING ALL HARSH CHEMICALS and switching to all-natural products made only with naturally derived ingredients.
---
Keeping our furry friends faces clean can prevent dirt and bacterias from entering their system. Our gently formulated Face Wash products allow proper care to their extra sensitive facial area. This special formula is also developed to help reduce and prevent eye infections and eye boogers.