Bentonite Clay: The Magical Magnet
Veronica DeLisle | June 20 2018
All dog owners know that bathtime is a must for their furry friends, especially after a particularly muddy walk. But do all dog owners know what kinds of harmful chemicals and dyes are in their dog's shampoo and soap? Cleanliness is necessary for a happy dog, but hurtful shampoo isn't. Sleepy Cotton has a line of shampoo bars for pups that avoid those harmful chemicals, and one of which even has a special ingredient for detoxifying: bentonite clay.
Clay in general is a negatively charged substance, yet bentonite clay has a unique property where some of its particles are negatively charged and some are positively charged. Most harmful toxins are positively charged, so when clay is put in the presence of these toxins, they latch onto the clay and stay there. People often use bentonite clay masks to detoxify their skin; the clay pulls the toxins out when they take the mask off. The same thing happens when used on your dog; harmful chemicals and toxins are pulled off their skin leaving them fresh and cleaner than before!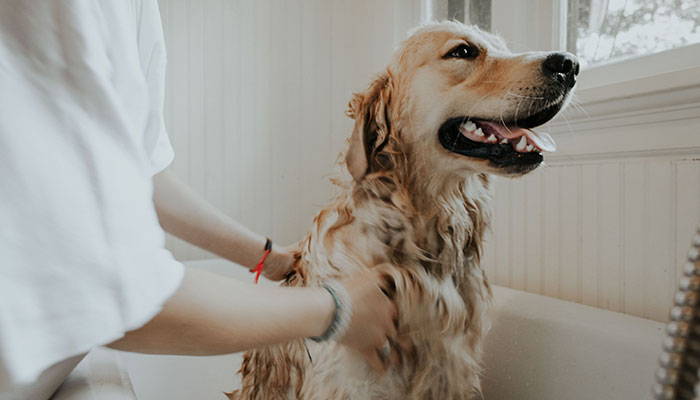 Bentonite clay is great for a number of reasons, so we'll start with topical ailments. If your pup is suffering from dry and itchy skin, bentonite can correct the imbalances in their skin to reduce these annoyances. Most dog shampoo can dry out your pup's skin a considerable amount, which is especially undesirable for young puppies whose skin is more sensitive. Puppy shampoo should go natural and be loaded with natural ingredients, like bentonite, to ensure a healthy and happy bath for their still developing bodies. Bentonite clay can also soothe bug bites, allergy issues and even minor wounds. Applying it as a paste for these cases gives the best results.
Humans and dogs benefit from ingesting bentonite clay (in specific and safe ways!). By adding a little bit of bentonite clay powder to your dog's food, you would be helping to flush out parasites, gasses, toxins and heavy metals from their system. It also supports a healthy immune system with its pH balancing qualities, helping to keep your friend healthy for years to come! Check with your veterinarian about how much powder to add, and because the clay has major absorption properties (to get all the bad stuff out) make sure to keep a fresh bowl of water out for your pup to rehydrate.