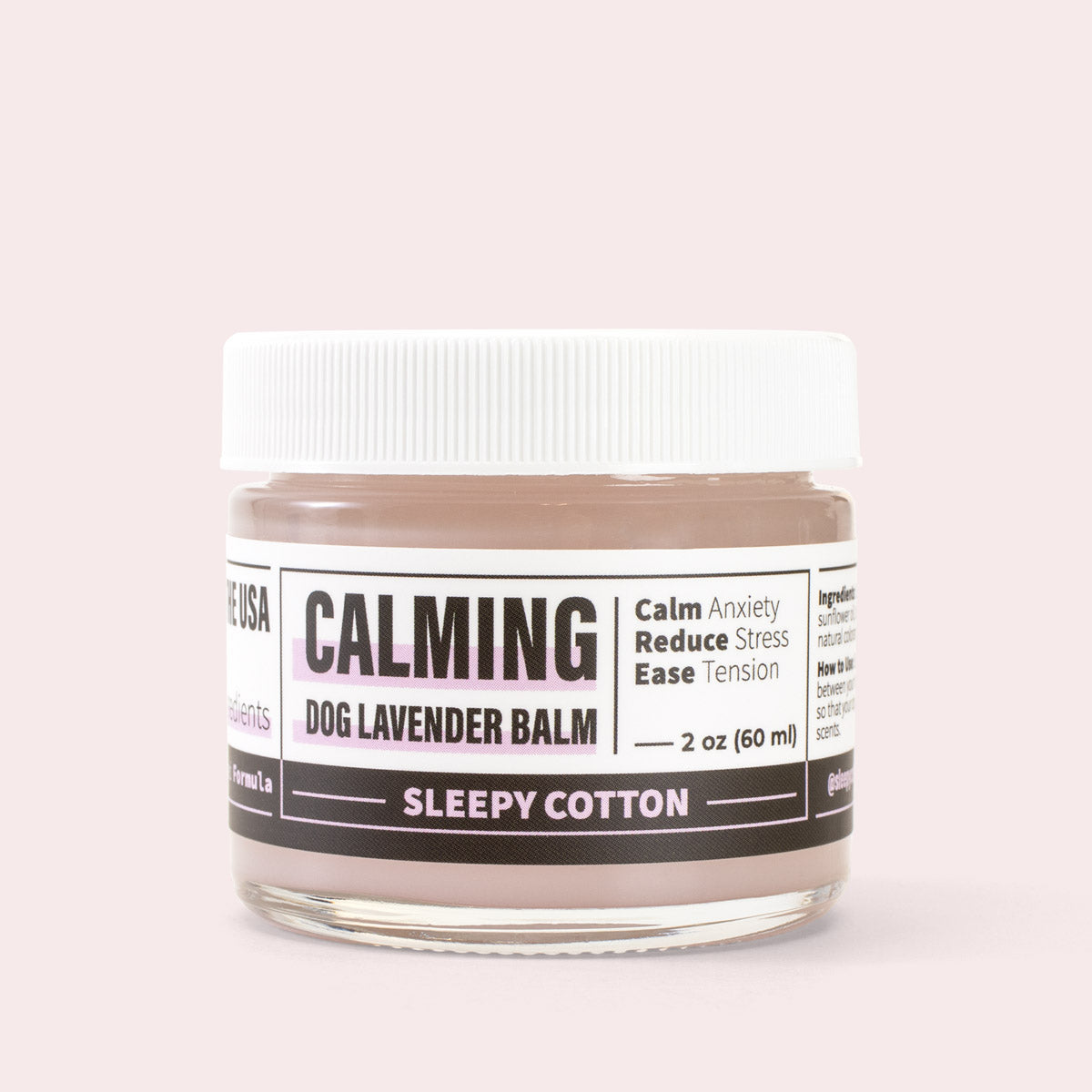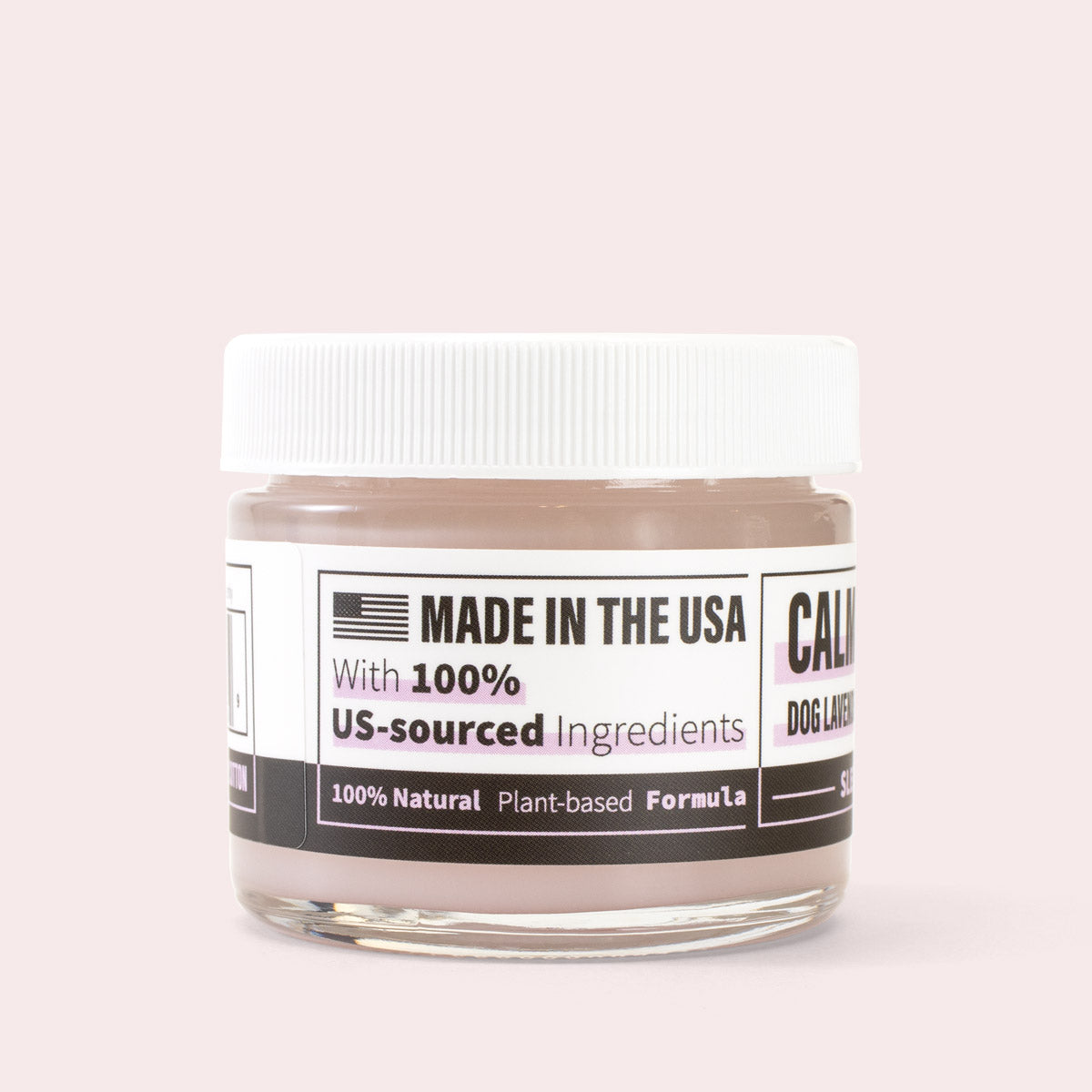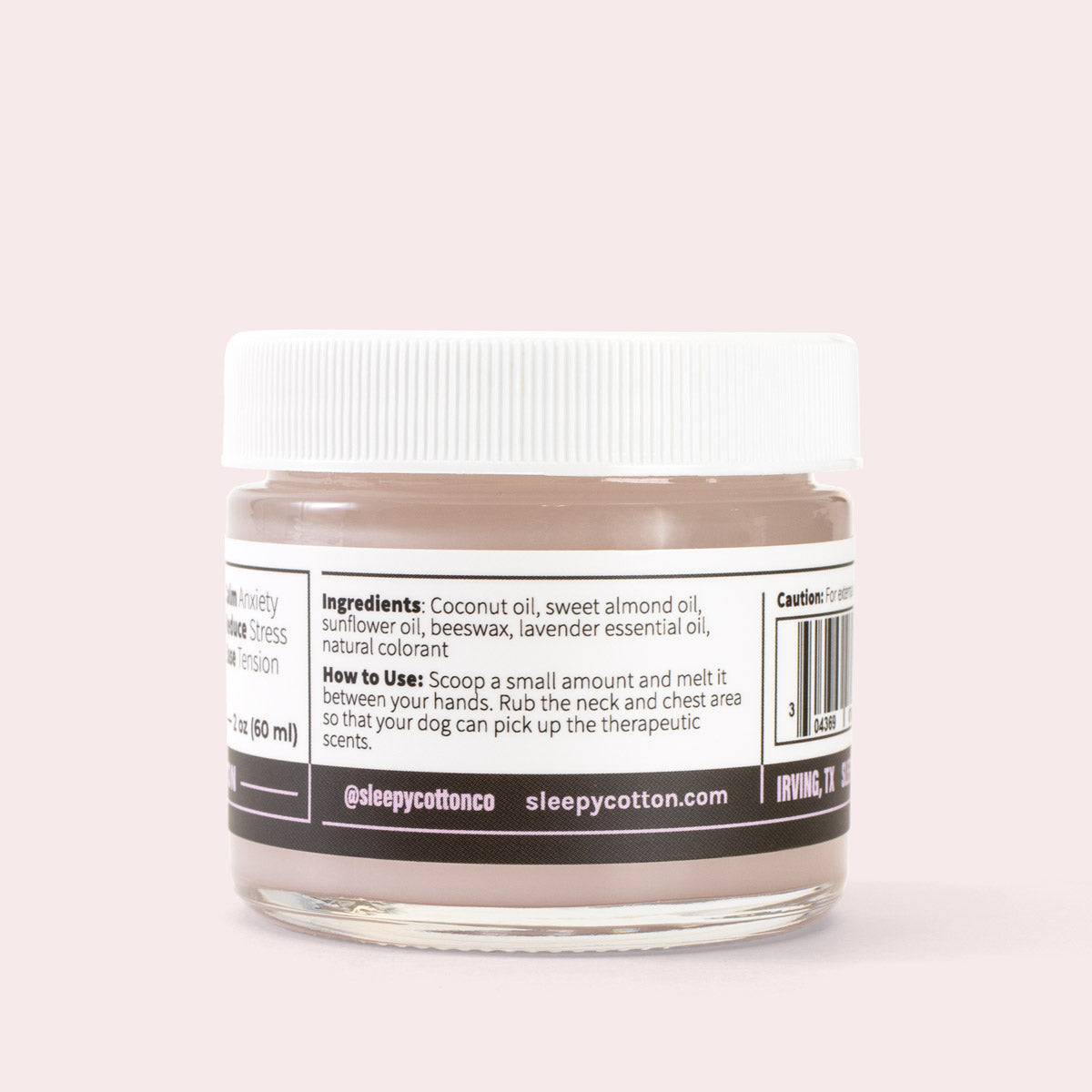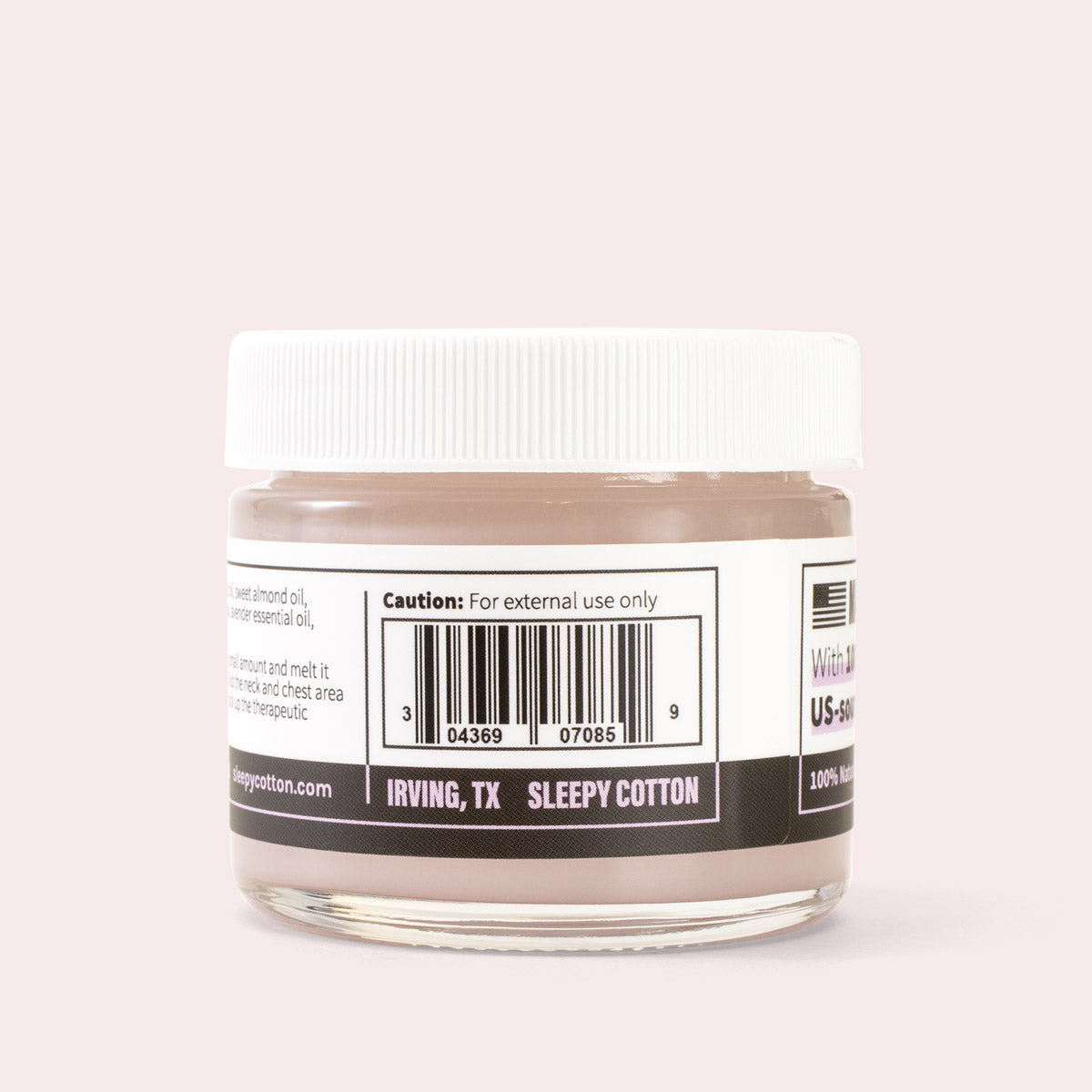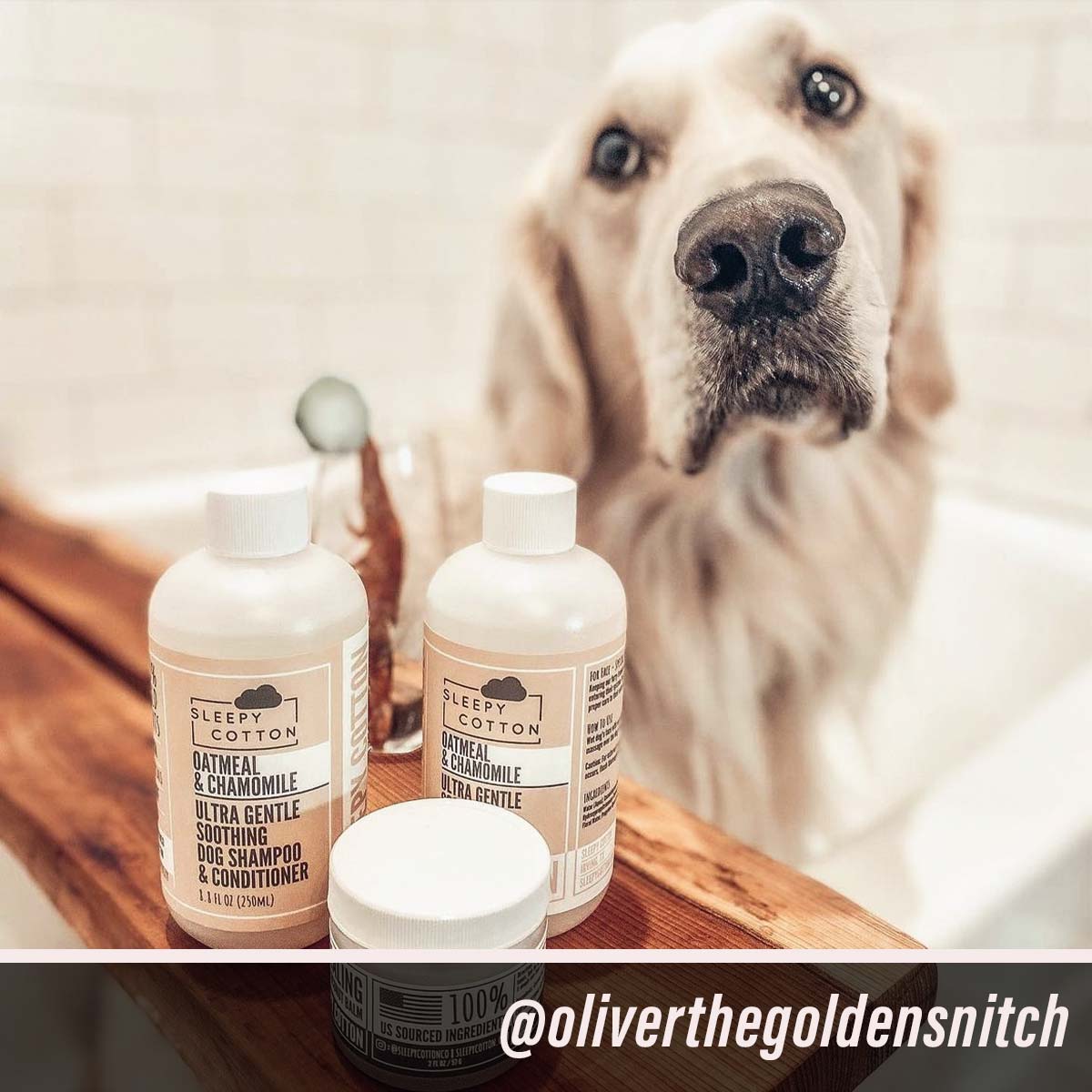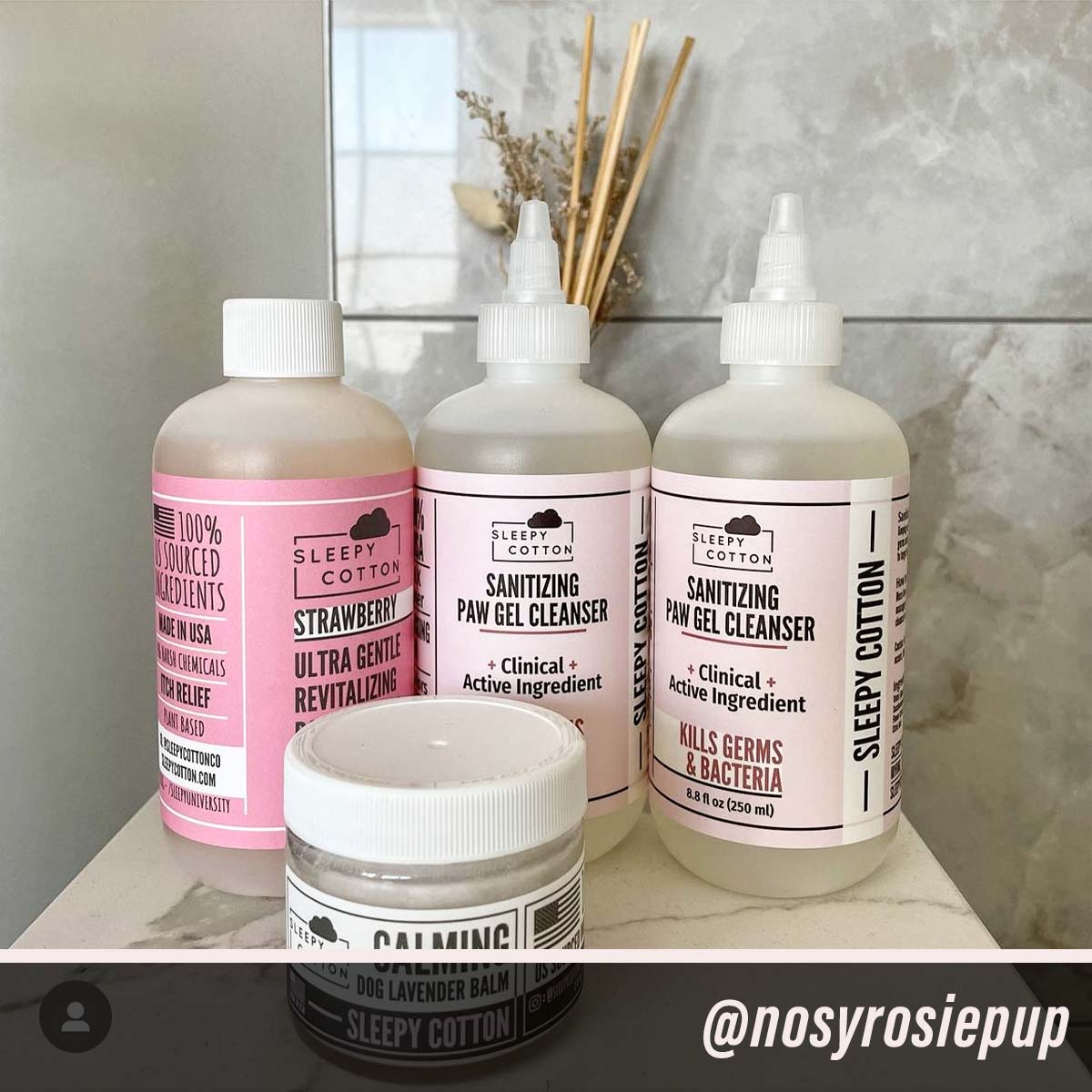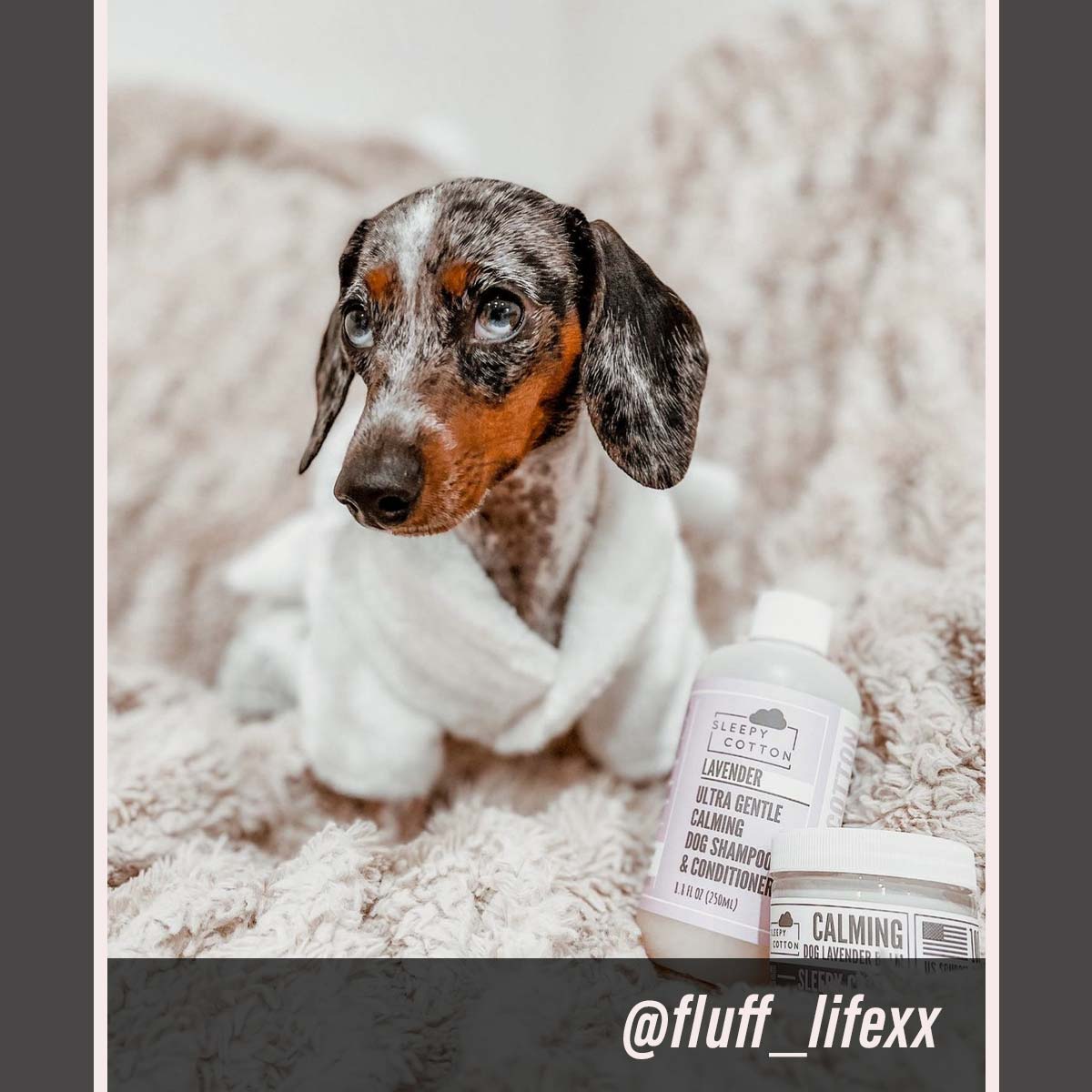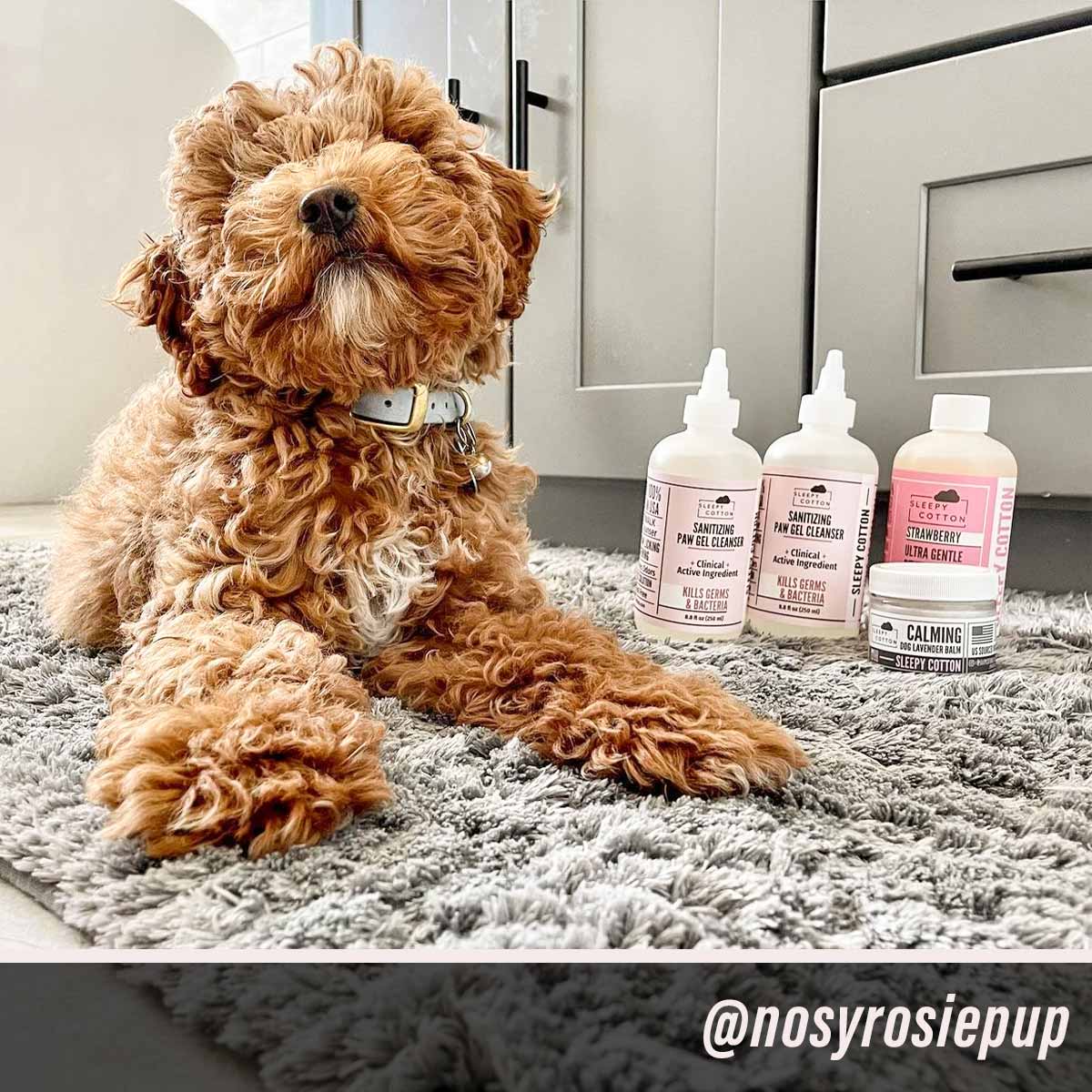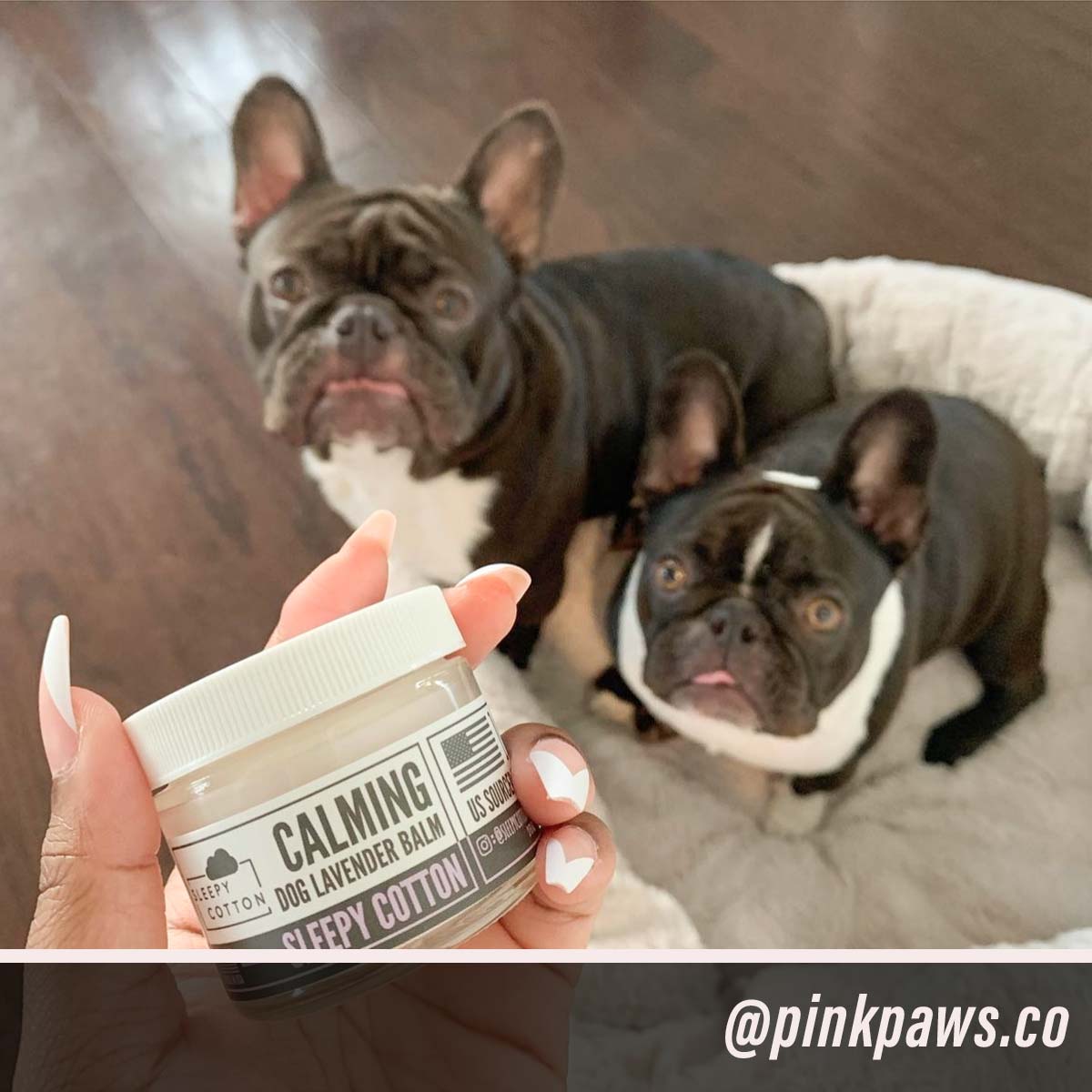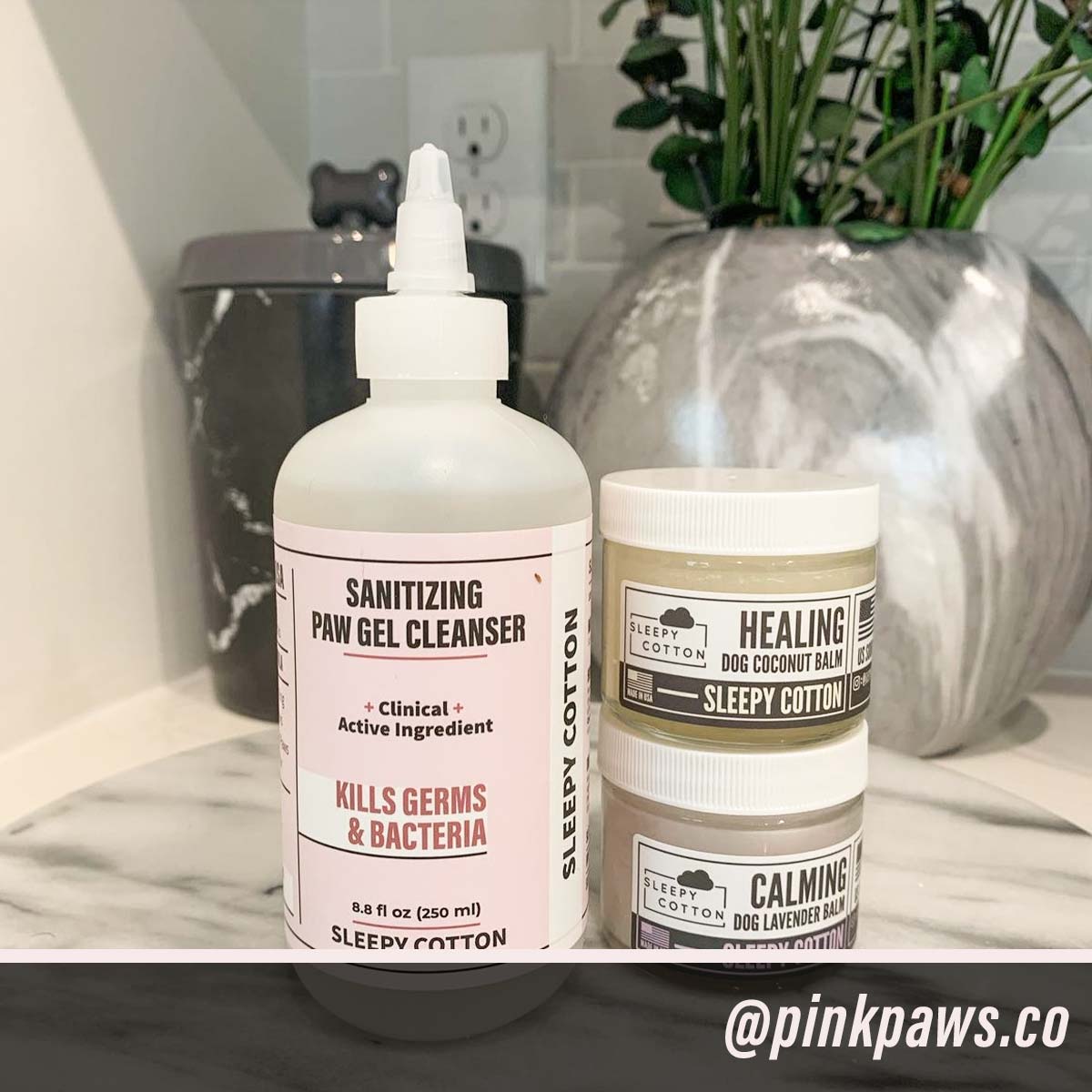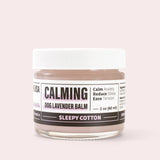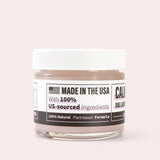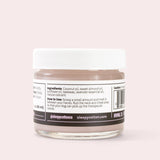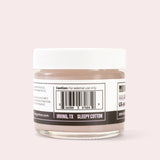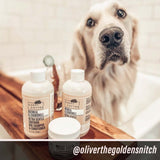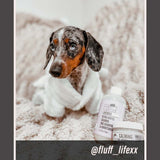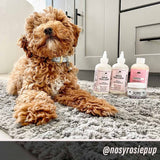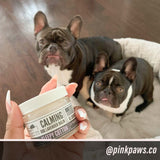 ---
---
Calm & Relax Your Dog the Natural Way
Are you looking for a natural way to calm your pup? As a dog parent, an overly energized fur baby can be exhausting. Our Lavender Balm is formulated to relax your furry friend the natural way. Therapeutic scents of the lavender flower reduce anxiety and stress without the use of harsh chemicals.
#1 - OVERLY EXCITED FURRY BABIES
Does your dog seem to have an inexhaustible reservoir of energy? A kind of energy that surpasses merely being active? We're talking pups jumping, bouncing, pulling, and sprinting in all directions.
#2 - STRESSFUL SITUATIONS
Trip to the vet, nail trimming, grooming sessions, and bath, these are rather stressful experiences to many dogs. Such uncomfortable situations exhaust fur babies physically and emotionally, which could lead them to develop anxiety or a bad behavior in response.
#3 - ANXIETY
Chronic anxiety devastates anyone who experiences it, especially our furry little friends. Anxiety in our dogs can diminish their immune systems over time, leading to increased risk for illness and infection. Anxiety can dangerously affect dogs' health and wellness.
THE PROBLEM
Calming products currently on the market are mostly made of chemically produced man-made ingredients from factories overseas. Products made of harsh chemicals are often able to do some of the tricks (if they are any good), however, the hidden negative impacts are often 5 to 10 times the advertised benefits.
THE SOLUTION
Calm and relax your dog the natural way. With loads of additional benefits, our healthy Calming Balm is formulated to calm your dog all day long
Key Benefits #1
Calming: Lavender is cherished for its healthful benefits with its calming abilities. It is a naturally powerful calming solution to ease the tension dogs may get when guests are over, being in the car, at the vet, at the groomer, or if they experience separation anxiety.
Key Benefits #2
Reduce Anxiety: Lavender essential oil has the key ability to reduce anxiety in aromatherapy, making it a popular go-to solution. The oil works as an anxiolytic (an anxiety reliever) which increases relaxation.>
Key Benefits #3
Reduce Stress Level: With its calming effect, lavender is exceptionally effective in reducing overall stress levels.
Key Benefits #4
Ease Depression: Lavender's effectiveness in treating depression has been proven by various studies. Lavender improves mild to moderate depression.
Key Ingredient - Lavender Essential Oil
- Calm & relax fur baby
- Reduce anxiety
- Help prevent developing anxiety
- Reduce stress level
- Ease depression
- Help prevent depression
- Ease the tension
Benefits of Lavender
True Made in USA
While many companies do not provide necessary information clearly, we proudly state everything.
- All our Sleepy Cotton bath products are made in the USA
- We proudly list ALL our ingredients
- ALL our ingredients are US-made
Key Benefits
- Calm & relax fur baby
- Reduce anxiety
- Help prevent developing anxiety
- Reduce stress level
- Ease depression
- Help prevent depression
- Ease the tension
When Should I Use Sleepy Cotton Calming Balm?
- Before leaving for work
- Before a walk
- Before grooming sessions
- Before road trips & doctor visits
- Anytime for dogs with anxiety & depression
About Our Calming Lavender Balm
- Made in the USA
- Clear ingredient list
- All US-made ingredients
- GMO-free ingredients
- Naturally derived ingredients
- No harsh chemicals
- No preservatives
- Carefully selected and safe ingredients
- 100% therapeutic-grade essential oil
Made Without
- Petrolatum
- Mineral oil
- Lanolin, parabens
- Phthalates
- Preservatives
- Synthetic fragrances
- Artificial Colors
Quality Above Most Human Grade Products
Sleepy Cotton Skin & Fur Nourishing Melting Balms are made of carefully selected, 100% US-made naturally derived ingredients proven to provide loads of benefits. The quality is above most human-grade products on the market.
Approximately 2 oz
Ingredients
Coconut oil, sweet almond oil, sunflower oil, beeswax, lavender essential oil, natural colorant.
Directions
Scoop a small amount and melt it between your hands. Rub the neck and chest area so that your dog can pick up the therapeutic scents. While our Melting Balms are ultra-gentle, dogs have very sensitive noses, therefore applying directly on the facial area is not recommended.
Cautions
External use only. If any adverse reaction develops, stop use and contact your vet.
How to Store
Store it in a cool, dry place.
---
---
Sleepy Cotton
Clear Ingredient List

Crystal Clear & Honest

Ingredient Information

Many Companies choose to provide deceptive PARTIAL INGREDIENT LISTS where all the good ingredients are listed but the harsh ones they use are not mentioned.

Making commercially viable 99 - 100% natural products require an incredible amount of research, resources, and investments. This is why many companies choose to settle with ALREADY AVAILABLE GENERIC FORMULAS made with unhealthy ingredients.

At Sleepy Cotton, we only develop products that would impress top-tier researchers to ensure the best health for your fur baby. This is why we only choose to provide FULL INGREDIENT LISTS listing ALL INGREDIENTS.
Purified Water

5 Stage Filtered Purified Water

All Sleepy Cotton products are made with 5 Stage Filtered Purified Water which removes 1000+ contaminants including physical, chemical, biological, and radiological contaminants.
Weekly Fresh Batches

#GoSuperFresh

At Sleepy Cotton, we are very proud to say that 100% of our products are formulated and produced in our own Dallas, TX facilities. Our in-house production allows our products to stay super fresh. Our products do not need to travel for weeks and months in a container that heats up well beyond 110 degrees Fahrenheit. They ship straight from our formulating facilities to your doorstep. 

100% In-house Production

100% in-house production offers many benefits, but the most important benefit is fulfilling our exceptionally high-quality control standards. 

Sleepy Cotton's certified production team inspects our ingredients, products, and production facilities, not overseas factories with questionable regulations. All batches go through detailed inspection steps before being shipped to you. 

Fresh and Active Ingredients

At Sleepy Cotton, we make weekly fresh batches. This means our active ingredients are actually fresh and active. From production to delivery of Sleepy Cotton products at your doorstep, the length of the journey is very short.
How to Read a Label

Did You Know?

Almost all dog care products are made and shipped from developing countries with questionable regulations using mostly low-quality INDUSTRIAL GRADE INGREDIENTS AND WATER. If you start digging, you'd be surprised. 

But don't worry. We're here to help you make the best decisions when purchasing your dog products in the future!

The most important thing when purchasing a dog product is reading the label and figuring out if the information is true or deceptive.

Ingredients

Unfortunately, dog products are not regulated like human products and most companies only provide a DECEPTIVE PARTIAL INGREDIENT LIST. When purchasing a product, make sure it has a true full ingredient list. 
If it says 'Contains' without a full ingredient list, it means they have not listed dozens of other ingredients that they have used.
If you only see active ingredients, it means they have not listed dozens of other ingredients that they have used.

Source of the Ingredients

If no information is provided, unfortunately, they are most likely sourced from overseas. Highly likely from developing countries where they are made.

Quality of the Ingredients

Most developing countries have questionable regulations meaning they generally use very low-quality ingredients. Many of them are unfortunately industrial grade. 

Quality of Water

As far as we know, it is very rare for a company to disclose related information. Overseas factories generally use industrial-grade water or poorly regulated tap water which is not healthy. And definitely not safe for consumption.

Where It's Made

All made-in-US products have at least one made-in-USA label somewhere.
If you don't see this information, it's almost definitely made in developing countries. 
Saving the Planet

Carbon Footprint, Environmentally Friendly, Sustainable

Are You Actually Contributing?

It seems like almost all companies are claiming that their operation is clean and environmentally friendly. But are they ACTUALLY CONTRIBUTING? Or are they only paying and purchasing these words?

Really Carbon Neutral? 

Paying just any company to offset your carbon footprint is not an actual contribution, although we do agree that it's better than doing nothing. An actual contribution would be taking real measures to reduce your own carbon footprint. You could even start taking dozens of measures this week by using less electricity, recycling your trash, avoiding products with excessive packaging, and using less hot water.

Sleepy Cotton's Real Contributions

We're very confident that the total average distance our products travel is one of the shortest in the world, dramatically reducing the actual carbon footprint of our operations.

Production & Shipping

We don't receive containers from overseas factories. All our products are made in our own facilities. 
We don't ship containers to warehouses. Our shipping department is right next to our production facilities. 
We are strategically located very close from a USPS distribution center and a UPS distribution center, greatly reducing the total distance that our products travel even further. 
We only accept ingredients from US-based suppliers meaning they are shipped from US cities, greatly reducing the total distance traveled. 
All our products are 99 - 100% natural, meaning that most of the ingredients are naturally made using more sustainable methods.

Packaging

At Sleepy Cotton, our products share a few unified standard recyclable containers. This means we eliminate all of the unnecessary custom package manufacturing steps, greatly reducing manufacturing waste that is harming the environment. 
We keep things very minimal. We don't use fancy custom-made boxes, eliminating all of those unnecessary custom manufacturing steps. 
Shipping & Processing

Processing Time

1 to 5 business days (Mon - Fri). We manually inspect all products two times before shipping out.

Shipping

Domestic (U.S.): 1-3 business days (USPS)
International: 7-14 business days

Products delivered to destinations outside the USA may be subject to taxes, fees, levies or other charges as a result of local legislation or customs formalities and we advise that you check the import charges applicable in any non-USA country before ordering Products to be delivered there.
Return

Please feel free to return undamaged products in their original condition within 30 days.
As seen in
Thank god I found Sleepy Cotton!
Sleepy Cotton is a puppy parent's best friend.