Is Coconut Oil Good for Dogs
Author Bri LaFluer / Sleepy Cotton Content Writer / Feb-15-2020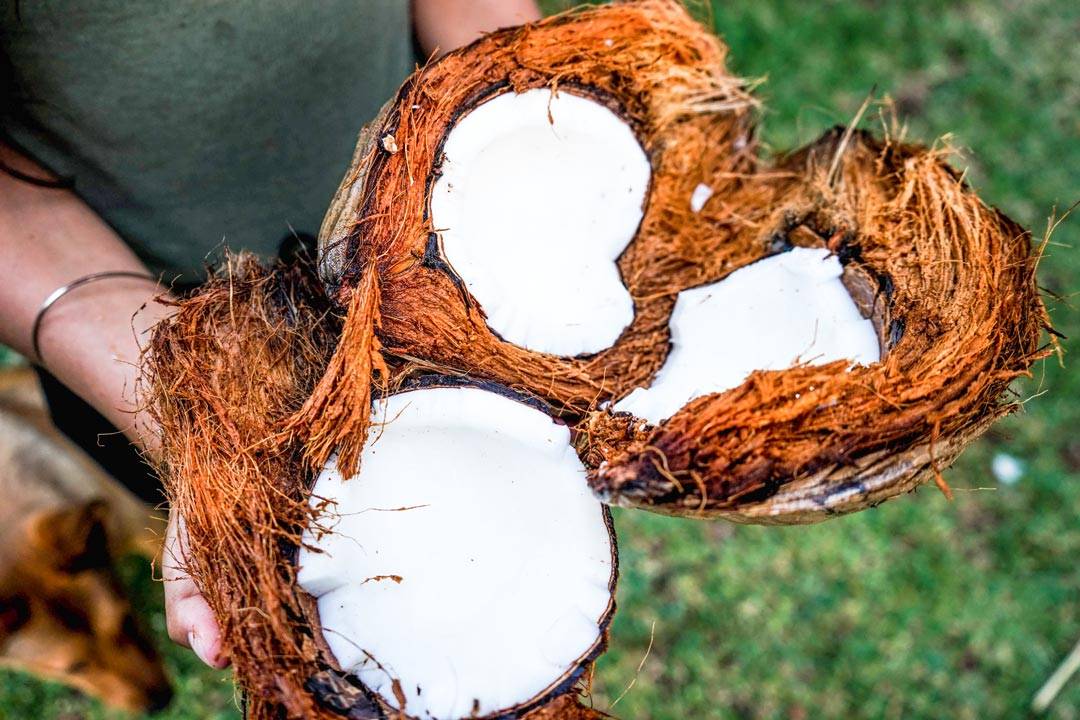 Is Coconut Oil Good for Dogs?
Coconut oil is a well-known superfood, providing loads of health benefits for humans. Is coconut oil good for dogs as well? The answer is yes! This tropical oil is packed with powerful benefits for both humans and dogs.
Coconut oil is shown to improve digestion by elevating metabolism, help to prevent infection, help heal irritated skin conditions, and much more. It is favored as a daily ingredient in skin and hair care routines, as well as in food for meal time!
Key Points
Coconut oil is a type of fat that provides the nutritiously healing qualities.

The components of coconut oil help to heal a variety of skin conditions including dry skin, hot spots, abrasions and cracked paws.

This tropical oil has also shown to fight off bacteria, viruses, and fungi with its antimicrobial effects.

Apply coconut oil to calm skin irritations and soothe allergies.
Now let's get down to the core! Is coconut oil good for dogs? Discover how you can healthily incorporate coconut oil in your dog's diet and care routine.
This fruitful oil is extracted from the kernel or meat of mature coconuts that are harvested from coconut palm trees. About 84% of coconut oil's calories come from saturated fat, which is actually mostly made up of medium-chain triglycerides (MCT's). Longer-chain fats that are in liquid vegetable oils, dairy, and fatty meats are handled by the body differently. MCT's are made up of shorter chains, allowing the body to rapidly break them down and absorb them better. This is why coconut oil's benefits come from the type of fats providing improved digestion, immune system support, metabolic function, and thyroid health.
The Benefits of Coconut Oil - General
Coconut oil is a hearty-healthy addition to diets. The MCTs make up a large percentage of coconut oil, boosting good cholesterol levels, stopping heart disease and high blood pressure, even fighting against alzheimer's disease. It has also suggested to be a viable diabetes treatment improving glucose tolerance. For others, coconut oil is favored as a healthy, natural approach to weight loss and boosting energy. These MCT's go straight to the liver, enabling it to have these qualities. Include it in your daily diet in moderation to improve your overall digestion and energy!
Applying coconut extract to skin may enhance a protective barrier while having an anti-inflammatory effect. Coconut oil can improve minor wounds and burns, psoriasis, contact dermatitis along with eczema by increasing antioxidants and decreasing oxidative stress. The lauric acid within it is the main antimicrobial component that helps to protect against harmful microorganisms as well. This includes acne, cellulitis, folliculitis and athlete's foot caused by bacteria or fungi. Additionally, coconut oil is extremely hydrating and moisturizing since it is full of vitamin E. Keeping skin hydrated is essential for deterring bacteria from entering through your skin.
Coconut oil is perfect for maintaining a healthy hair regimen. Its lauric acid is easily absorbed into hair because of its chemical structure, and it restores strands with giving protein. Studies have shown that compared to other oils, coconut oil was the most successful in protecting and moisturizing hair shafts overall. Other possible benefits of applying coconut oil have shown to prevent lice, block out sun damage, treat dandruff, and reduce hair loss.
Is Coconut Oil Good for Dogs?
Coconut oil has shown to improve overall skin and coat conditions for dogs. It nourishes dry skin and reduces itching. It is "healing for irritated skin, hot spots, abrasions and cracked paws" as recognized by Marybeth Bittel on Dogster. The main components in coconut oil have shown to fight off bacteria, viruses, and fungi. Its antimicrobial effects aid both the inside and outside of the body. This component even helps with disinfecting minor cuts and wounds in dogs as well. While restoring skin's protective barrier, many dog parents have noticed coconut oil even treats eczema and allergies for their dogs.
The main fatty acid in coconut oil is lauric acid, which is what easily penetrates hair shafts. This is what minimizes protein loss, allowing for stronger hair health. The nutrients restore shine in dull coats, and keeps fur soft and tangle-free. With its protection, you can also worry less about sun damage as it can deter this as well!
Applying it on your dog can even help prevent your dog from becoming infected by ticks, fleas, and mites. Other prevention methods work to kill pests once they bite your dog, but coconut oil can repel bugs from their coat.
Put a little bit on your fingers and massage through your dogs fur; it will not make them greasy since their hair will absorb the benefits over time. Coconut oil will also minimize doggy odor, and the scent of the oil is not overwhelming.
The nutrients of coconut oil can improve dog's digestion, reduce inflammation in the gut, heal IBS and colitis, encourage weight loss, and boost their immunity. Lauric acid and caprylic acid within it contribute as antivirals, helping to fight off bad bacteria entering the body. Coconut oil can further improve your dog's gut health based on a research study. It showed that the oil helped in stopping yeast growth in the gut, which can additionally improve the conditions of allergies. The components of the oil also regulates and balances insulin, proving to control diabetes in dogs.
A dog's body can easily metabolize the medium-chain fatty acids that make up coconut oil. With it, they are able to absorb nutrients better rather than storing them. Adding coconut oil in your dog's diet can balance the thyroid and help with weight loss. They can experience a boost of energy and overall stamina! As your dog ages, they might be especially in need of more energy. Coconut oil can also improve cognitive function in dogs by providing ketones to the brain. This promotes positive energy along with good brain function to even prevent dementia.
How to Include Coconut Oil in your Dog's Diet
Your dog can benefit from the qualities of coconut oil through ingesting it in appropriate amounts and applying it topically to their skin and coat. Some even use it for brushing their pets teeth to maintain whiteness and deter bad breath. The best recommended options include organic, virgin, and cold-pressed coconut oil. These will be the healthiest choices to give to your pet.
Because of its higher calorie and fat content, you will want to give it to your dog in moderation. It is important to watch for any weight gain. A good rule is around 1 tbsp for every 30 pounds, and 1tsp for every 10 pounds generally given about 1-2 times daily. Start slow with adding it into your dogs diet. This way, they will not end up with an upset stomach and diarrhea.
Most dogs will like to lick coconut oil right off the spoon! All brands and types of coconut oil will have a different smell and taste. Some will be buttery, and others are more nutty. Your dog may take a liking to a certain kind better. Try experimenting with a few to see which one your dog loves! You can also find many recipes of baking coconut oil into treats for your pet. Many will add in other nutritious ingredients such as pumpkin and peanut butter.
There are many beneficial ingredients that you can incorporate into your dogs regular diet. Some pets need extra nutrition that they may not be getting with their normal food. If your dog is picky or allergic to coconut oil, there are other healthy oils you can give them.
Some people will give their dog other oils such as cold water fish oil such as salmon oil, krill oil, and flaxseed oil. These, each can provide a variety of healthful values for pets similar to coconut oil. They are also an excellent source of omega-3 fatty acids which can help reduce inflammation, strengthen their immune system, increase the ability to fight cancer, and benefit their heart health.
Sleepy Cotton + Coconut Oil
Our melting balms exclusively utilize the healthful benefits of coconut oil. coconut oil adds a protective layer over furry friend's skin and coat, fighting off bacteria, viruses, and fungi with its antimicrobial effects.
Also, its make-up of lauric acid which helps create a soft coat, protect against the sun, and moisturize skin. This makes our melting balms serve as a perfect daily routine to maintain healthy skin and fur.
Sleepy Cotton prioritizes healthy ingredients and benefits for your dog, giving you shampoo and face wash products that you can trust. All our products are made in the USA with 100% USA made ingredients without any harmful chemicals such as parabens, phthalates, dyes, synthetic fragrances, SLS or SLES.
Thoughts: Is Coconut Oil Good for Dogs
After everything we've learned, can we prove is coconut oil good for dogs? You know it! Coconut oil has shown to provide great nutritional value to humans and dogs skin and diet health. This tropical oil can improve digestion, and energy as a daily treat. It can fight off bacteria, viruses, and fungi with its antimicrobial effects. And don't forget, coconut oil helps to heal a variety of skin conditions including dry skin, hot spots, abrasions and cracked paws.
Make giving it to your furry friend a fun and exciting treat time. Discover what ways will get their tail wagging whether the coconut oil is mixed into their food at mealtimes, baked or frozen for a yummy long-lasting treat, or licked right from the spoon!
If you also decide to use only coconut oil itself as a leave in conditioner, you will not need to worry about them licking their coat either since they can eat it. Get ready for a touchably soft coat and moisturized skin.
With coconut oil, your dog is sure to be in for a delicious and beneficial reward to make them happy.
---