Mood Booster, Stress Reducer and More: The Benefits of Lavender
Veronica DeLisle | June 25 2018
Essential oils have become all the rage nowadays, but the top dog of aromatherapy has to be lavender. You would be hard-pressed to find some kind of aromatherapy blend that doesn't include lavender oil. That's because it has a crazy amount of beneficial properties, all of which can be great for both you and your furry friend!
Lavender is great for dry and itchy skin; its antihistamine, antibacterial and anti-inflammatory properties keep your pup's skin comfortable and healthy. These properties also help to relieve irritation from bug bites as well as repel ticks and mosquitoes from the start. It can even soothe any burns that you or your dog might pick up. If your dog suffers from eczema, lavender is a great remedy as well. Basically, if your dog has any kind of skin troubles, look for a product with lavender oil in it!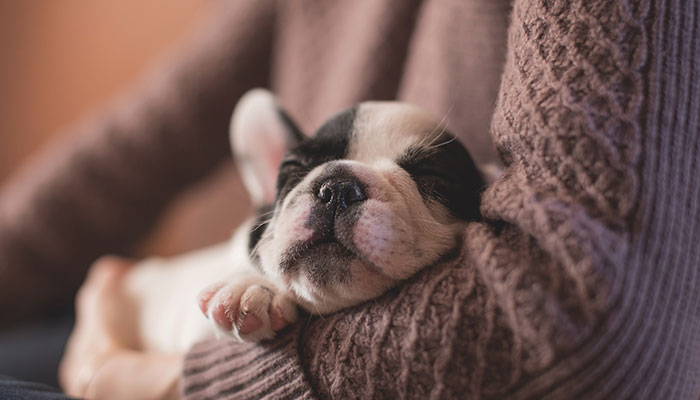 If your pup is anything like mine, then holidays with fireworks and thunderstorms are the bane of your existence. My dog, Toby, absolutely hates loud noises. He gets scared, starts shaking and then goes to hide under a bed or in a closet. Luckily for us, lavender is a great way to reduce anxiety and stress for our four-legged friends! It's great for dogs who have separation anxiety as well due to its calming scent. If your pup is having trouble sleeping because of the noises outside, lavender is also a great sleep-inducer. I've even used it as a spray on my pillowcase when I feel too anxious to sleep
For our older pups, lavender's anti-inflammatory and analgesic (pain-relieving) properties are great for stiff and achy joints. Dogs who suffer from arthritis benefit greatly from lavender! It's a great pain reliever in general; it's been known to help arthritis in humans as well as relieve migraines and stomach cramps.
From irritation relief to mood-elevator to pain reliever, lavender oil is a great go-to remedy for pretty much any ailment your dog may have. When diluted properly it is harmless to your dog, but if used in a high concentration it can be dangerous. If you're using lavender oil on its own, always be sure to check with your vet first. Lavender oil is very potent and can irritate your dog's sensitive nose if not diluted with water. It can also cause skin damage, so don't apply it to skin without diluting it first. Any dog products you see that have lavender in them have diluted the oil greatly so that it's safe for your pup!
Lavender Oil in Melting Balms
Sleepy Cotton's Shiny Dog Melting Balm comes in a variety of scents, one of which being lavender! It's designed to absorb into your dog's skin to keep their coat healthy and shiny, while also give off a relaxing and stress-relieving scent to keep your dog worry-free. It's an all natural product filled with beneficial oils like coconut oil, sunflower oil and sweet almond oil. You can read about these other products on Sleepy Cotton's blog to learn more about their benefits to your pup's wellness!