Can You Use Human Shampoo on Dogs
Author Bri LaFluer / Sleepy Cotton Content Writer / Feb-15-2020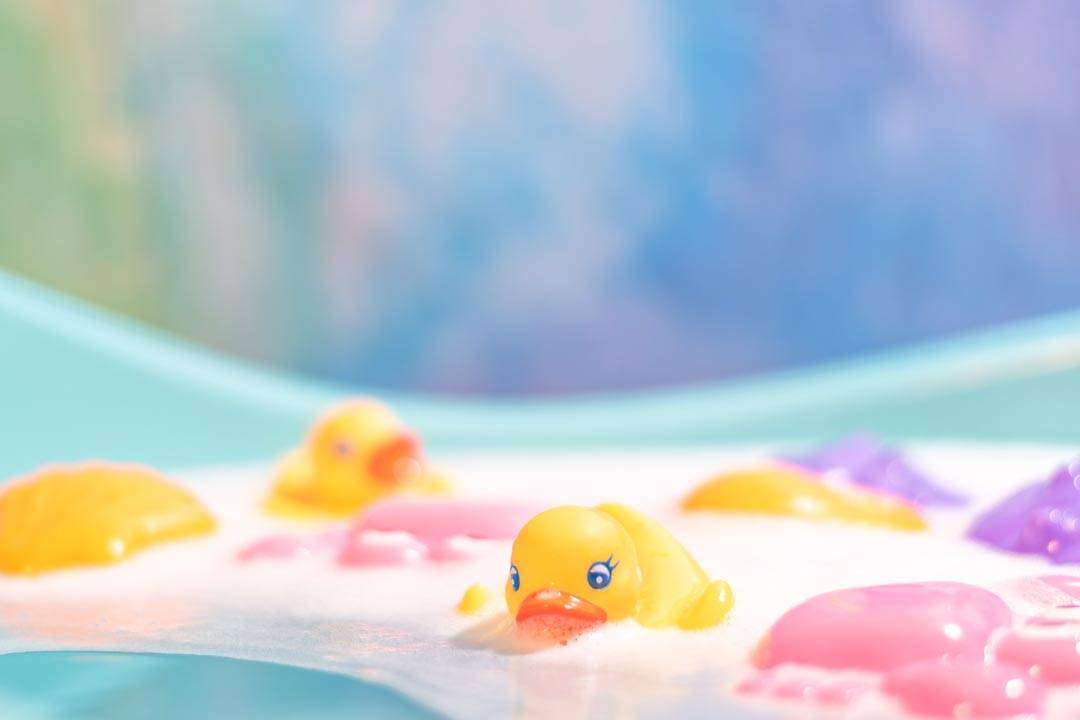 Can You Use Human Shampoo on Dogs ?
It's bath time with your dog once again! This might be a dreaded time for both of you, while some dogs see it as a relaxing spa experience. Then there are the fun unintended bath times when your fur baby decides to roll in mud, or rub in the grass... so undoubtedly you want them to be clean and smelling amazing.
However, you may want to rethink grabbing for any kind of human shampoo you have at home by the tub. There are countless bottles of nourishing, moisturizing, and fragrant shampoos. The question is, can you use human shampoo on dogs? The answer is no. This is because dogs have hypersensitive skin that needs to be pH balanced with healthy ingredients.
Key Points
Human shampoo is not formulated for dog's sensitive skin as the ingredients work to clean our resilient skin.

All dogs have different pH numbers based on their breed, gender, size, and environment.

Dog shampoos are formulated to stay within the safe pH range to avoid irritations.

Shopping for a shampoo that has all-natural ingredients is the safest choice for furry friends.
Let's see how dog's skin can truly be affected! Can you use human shampoo on dogs?
Can You Use Human Shampoo on Dogs?
The most important thing to understand is how every dog has sensitive skin. All areas of dog's skin are much more delicate than humans altogether. This is because dogs' skin is only three to five cells thick, where as a humans' is between 10 to 15 cells thick being much more resilient. Can you use human shampoo on dogs? The answer is no. Human shampoo has drastically stronger ingredients to be able to clean our skin better. Using it on a dog would be too harsh and could cause damage to their fragile outer layers. This can lead to infections, irritation and inflammation. The pH number of dogs differs greatly from humans, so products could never keep them both balanced.
Maintain Your Dog's Healthy Skin + Fur
To keep your furry friend's coat shiny and healthy, you'll want to maintain their skin underneath as well as their coat on the outside. General brushing and grooming spreads the skin's natural protective oils across its surface. These oils are necessary to keep skin moisturized, while helping to deter bad bacteria and unwelcome parasites. Brushing, combing, and massaging will also increase circulation and blood flow.
Additionally, regular bathing keeps your dog's coat and skin healthy, reduces allergies, and decreases the chance of infection. Even when giving your dog water baths, if they need it instead of shampooing, it will make an improvement to their skin conditions. Typically, it is best to wash your dog with shampoo around once every month. All of these fundamentals will help you to maintain your dog's lush skin!
Having a better understanding of the science behind dog's skin will help you know more of what to look out for. It's not as complex as it may seem. pH is the measurement of alkalinity or acidity on a scale of 0 - 14. 7 is the basic neutral number. The numbers greater than 7 are more alkaline, while the numbers less than 7 are acidic.
All dog's pH numbers will not be the same. They are normally in a range of 5.5 to 7.5, but some breeds are even higher with studies showing up to 9.1. This means that canine skin is more alkaline. In comparison, humans pH number ranges from 4.0 to 6.5, being slightly acidic.
There is actually a wide range of acceptable numbers that dog's skin can be at to be seen as healthy. This all depends on their breed, gender, size, and climate conditions. pH can vary for your pet depending on many factors day to day. Keep a close eye on their skin conditions frequently to see if you notice any changes.
There is no perfect number for dog's skin pH to be at. As a result, not all dog shampoos have the same pH number. A good pet shampoo should be in the neutral pH range of 7, which will prevent skin drying out and becoming itchy.
The added ingredients in human shampoo are made for our thicker skin, meaning they are much too harsh for dogs.Their thinner skin layers will absorb ingredients even faster than us, which could result in these chemicals ending up in their bloodstream. Other symptoms of harm include irritations of hot spots, itching, inflammation, redness, and dandruff.
Some harsh ingredients that continue to be added in products today are even too harsh for humans as well. Make sure you avoid lousy ingredients including parabens, SLS/SLES, phthalates, formaldehyde, mineral oils, and artificial colors/dyes.
Sleepy Cotton's All Natural Choice
All Sleepy Cotton Spa / Bath products are made with natural preservatives and naturally derived ingredients that benefit your dog's skin, coat, and overall health.
With our specialized formula, our ultra gentle products keep dog's pH balanced for their fragile skin. We include ingredients packed with powerful qualities such as coconut, aloe vera, oatmeal, and vitamin B to help encourage strong hydrated skin and fur!
By proudly providing a full ingredient list, we keep things simple and honest. All our Spa / Bath products are made in the USA with 100% US made ingredients. Absolutely no harsh chemicals such as parabens, phthalates, dyes, synthetic fragrances, SLS or SLES.
Giving Your Pets What's Best
Looking back, the answer to the question "can you use human shampoo on dogs?", is simply, no. Human shampoo brands are not formulated for dog's fragile skin and it will imbalance their pH number. A healthy pH number is what helps skin stay strong and not irritated or inflamed.
Most supermarket brands are made of harsh chemicals such as parabens, SLS/SLES, phthalates, formaldehyde, mineral oils, and artificial colors/dyes. Keep away from these in both you and your dog's products!
So, what can I wash my dog with? The answer is simple. Find an honest brand providing clear information. Most honest companies will proudly list all the ingredients. This is something that not all companies will do to keep using inexpensive and harmful chemicals. Knowing these facts are all essential in making a healthy and beneficial choice for your furry friend!